Arena Television will "start to look beyond its current OB truck build programme" after winning the contract to provide OB facilities for Sky Sports' rugby union coverage.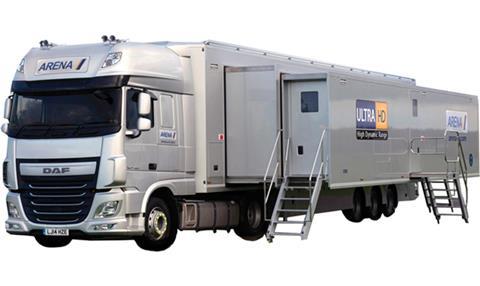 The Redhill-based company was last month awarded a four-year, 80-game-per-season deal to cover various tournaments and matches, including England's Autumn Internationals and the European Rugby Champions Cup and Challenge Cup.
The coverage for these events will be produced using one of Arena Television's three new Ultra High Definition IP-based trucks, the first of which, OBX, has now been built and is currently undergoing a series of trials. The second OB truck, OBY, is due to be ready by August.
As the rugby contract will occupy a considerable amount of the company's capacity, Arena is considering drawing up plans for further new trucks.
Arena managing director Richard Yeowart said: "We didn't expect the new capacity to be absorbed quite so quickly and it means we now need to start looking beyond the current build programme a little sooner than expected."
Arena's OBX, OBY and OBZ trucks will be among the first in the UK to offer Ultra HD based on a flexible IP core rather than a traditional baseband video one.
Sky Sports director of operations Keith Lane said: "Arena's newly built UHD fleet with IP infrastructure will ensure that Sky Sports rugby union remains at the forefront of TV coverage in the UK, and puts us in a very strong position from a technical perspective moving forward."
Also part of the contract are the matches involving England Saxons, the England U20s and U18s, the Barbarians and the England Women's team. The Scottish and Welsh fixtures within the Rugby Union Pro 12 will also be covered. OB facilities for Sky Sports' rugby coverage were previously provided by Telegenic.