For a single drama about a second-generation Indian growing up in Britain, it was important that our crew was as diverse as our cast – but it wasn't easy, says Nisha Parti
Production companies Kudos; Parti Productions
Commissioner Christopher Aird
Length 1 x 90 minutes
TX 9pm, 13 November, BBC2
Executive producers Diederick Santer; Manda Levin
Producer Nisha Parti
Director Lynsey Miller
Writer Mick Ford
Casting director Olivia Scott Webb; Tess Joseph
Line producer Danny Gulliver
Post house Technicolor
Summary A touching, humourous and emotional story of a secondgeneration Indian growing up in Britain and how he comes to terms with who he really is.
I optioned The Boy with the Topknot back in 2009 when I was just setting up my own production company, Parti Productions.
I had only ever seen pretty generic stereotypes of Asians on British TV and was determined to tell more complex and original stories about our culture that could appeal to a wider audience.
The Boy With The Topknot is exactly that kind of story. A memoir by The Times journalist Sathnam Sanghera, it is one of the most original and beautifully written books I have ever read and resonated with me on a personal level.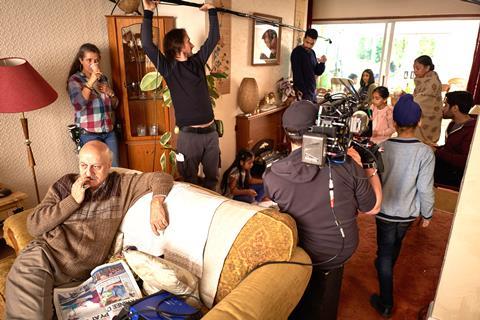 Having come from feature films, I approached my first single drama for TV as a movie with a tight budget.
However, I knew I would need some help and guidance and was very lucky that several TV companies were interested in co-producing it. Kudos felt like the right fit for many reasons.
I started working with casting director Olivia Scott Webb almost as soon as it was greenlit by the BBC, before we had found our director.
I see many Asian families on screen who are clearly a mix of ethnicities, backgrounds and cultures squashed into one family, and this family needed to feel real. I wanted to know every Punjabi actor out there and to create a proper Punjabi family. So I decided to go to India to cast the parents, rather than cast second-generation British Indians who could put on an accent.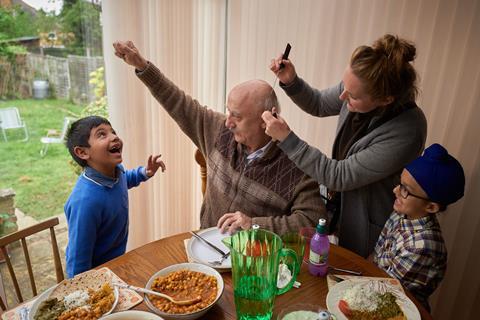 It was really important to director Lynsey Miller and me that the depiction of schizophrenia was handled with sensitivity and truthfulness. We focused on very natural and instinctive performers and Lynsey worked really hard with the actors to get the balance right.
Sacha Dhawan was on our radar from early on. I had known him for many years, since his brilliant performance in Bradford Riots, and we had almost worked together a couple of times.
The other parts were much more open and we saw a lot of people. The great thing about TV is that it is less driven by bigname actors than film, so we were free to cast the right people for each role.
Nisha Parti - My tricks of the trade
One of the biggest challenges of getting anything made is that you hear "no" or "you can't do that" all the time. I am not very responsive to that and will fight it all the way. There is always a solution. Persevere, be tenacious and stick with it.
It is important to me that I am always approachable. If I don't know about a problem, I can't help solve it.
Never lose your vision. If you start to compromise too much on the small decisions, before you know it, your vision will disappear and you will end up with a film you didn't want to make.
I felt strongly that if most of the talent in front of the camera was Indian, it was important to get as many Indians as I could behind the camera too, so the actors weren't looking at a sea of white faces on set.
This was a tough challenge as below-the-line crew are incredibly un-diverse in the UK and, depressingly, I struggled to find Asian heads of department. I ended up setting them all a task: one member of their department had to be Asian. By and large, they exceeded that goal.
In Birmingham, we found some great Asian runners, assistants and drivers, but it wasn't easy. We had to ask around, pull favours and really dig people up. Finding more experienced Asian crew was even harder, but we took a chance on a lot of people and I hope many of them will go on to do bigger and better things in the future.
I am proud to say that this is probably the brownest drama the BBC has ever made, both in front of and behind the camera.
The story is set in Wolverhampton and the BBC wanted us to film on location and use local resources. This bought its own challenges in terms of crew and facilities and we ended up having to bring in a lot of people from other regions and accommodate them, which was very tough on our budget.
Working magic
It is increasingly hard to make single dramas for UK broadcasters because of the need to attach co-production money. But Kudos worked its magic and we were able to raise additional funds via Great Point Media, and get an amazing post deal at Technicolor.
One difficult decision we made was to shoot the entire film in three weeks. I was reluctant at first, but it meant we could afford to hire a good crew, pay for the equipment we needed and produce something with the high production values that we all aspired to.
For other film producers out there making their first move into TV, I would advise working with an experienced production company. Having Kudos behind us was a godsend. The infrastructure, experience and support it provided enabled me to focus on being as creative as possible.
TAKING DIRECTION FROM THE PERFORMERS
Lynsey Miller, director
The strength of the material lies in its focus on one family's profoundly personal experience of mental illness. In not proposing to speak for everyone, we were able to delve deeper into the dynamics and complexities of the Sanghera family.
Speaking with Sathnam during prep, his overriding childhood memory of his father was that he was always present, dependable and seemingly unchanging. In the real Sanghera family home, the living room is at the heart of family life.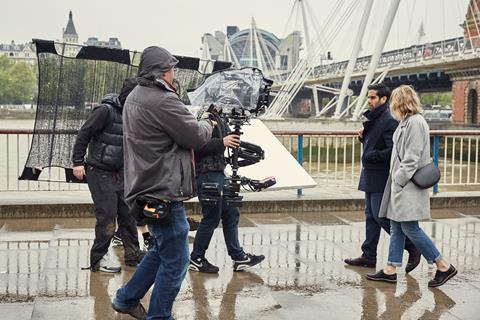 Dad has 'his' chair by the door, ensuring that he is always in the midst of the activities. We searched for an open-plan house and placed Dad's sofa in the centre.
Although predominantly stationary, he is always part of the action, yet disconnected in a way that is difficult to put your finger on. His stillness is in contrast to the bustle around him, hinting that all is not as it first appears.
This is very much a performance-led piece. Our cinematography was led by what the characters were thinking and feeling, revealing to the audience what they were trying to keep hidden. Our operators were reactive to the action, focusing on capturing moments, details and incidentals, always allowing the performance to motivate shot choices.
We employed a mix of naturally available light sources and practical lighting to ensure maximum freedom of movement within each space. We opted for vintage Cooke lenses, because their softer feel allowed us to create a warmth and connection between audience and character.
FLASHBACK SCENES
To aid the creation of a timeless aesthetic in the flashbacks, we added rear-element 'netting' filtration to further soften the image and allow the light to flair in a more pronounced way.
In allowing the action to take place in the foreground when what we're concerned with is happening in the background, we played on the idea that what is in front of you is not always where you should be looking.
That is how Sathnam had missed so much: he'd never bothered to look past what had been presented to him.