The BBC has shot its first 360- degree news package as part of the broadcaster's ongoing trials with nascent virtual reality technology.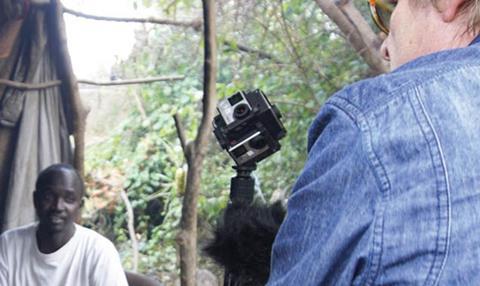 Last week, diplomatic correspondent Paul Adams was part of the joint project between the BBC's R&D team and its News Lab innovation programme to capture footage of a migrant camp in Calais. Three clips have been uploaded to YouTube, while a longer package will also be produced.
The project was led by BBC R&D editor Zillah Watson, who has been looking at the use of the Google Cardboard virtual reality device for immersive news packages.
She described the footage as "highly experimental", adding: "It is a very new area for news. I don't know of anyone else who has tried to get 360-degree footage out of a news event so quickly."
The footage, which includes views of the camp and a migrant climbing onto a lorry, was shot using a Freedom 360 rig, which holds six GoPro HD Hero cameras.
The footage was then stitched together using Autopano software from French firm Kolor, which was acquired by GoPro earlier this year.
Watson said current limitations, including a "very time-consuming" post-production process and the awkwardness of operating six separate cameras, meant it would be difficult to quickly produce VR packages of breaking news. However, she said immersive news packages would help viewers gain a better understanding of some stories.
"VR offers two possibilities that go beyond what you can do with a standard 16:9 frame. It provides a real understanding of location, which in this case will allow viewers to look around the camp and provide some awareness of the location of the shelters. It also gives the viewers a sense of presence. If it works well, a viewer can experience standing in a reporter's shoes."