Richard Bright worked on BBC2 docs including Werner Herzog's Nomad [pictured]
Richard Bright, the BBC Studios' exec producer responsible for a string of successful documentaries, has died aged 51.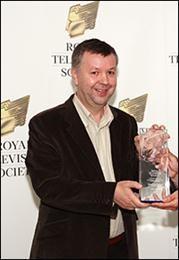 Bright, who was based in Glasgow where he worked for the BBCS Documentary Unit, died suddenly last week and is survived by his wife Livia and Hungarian family.
Ralph Lee, the producer/distributor's content director, said he is "shocked and saddened" by the news.
"Richard was a brilliant creative whose enormous body of work across arts, popular culture and history programmes leaves an indelible mark on the TV landscape," Lee told Broadcast.
"His family and colleagues are foremost in our thoughts right now and we are providing them with our full support during this difficult time."
Bright made his name as an exec-producer on a raft of documentaries, mostly for the BBC.
Most recently, these included BBC2 double Werner Herzog's Nomad: In the Footsteps of Bruce Chatwin and Dangerous Desires: The Scandalous Life of Egon Schiele, along with BBC4's Paddington: The Man Behind the Bear and Van Meegeren: The Forger Who Fooled The Nazis.
He also exec-produced the first run of Mark Kermode's Secrets of Cinema series for BBC4.
He was most recently working on two further BBC2 docs, one about the Miss World protests in the 1970s and the other about Bridget Jones.
BBC arts director Jonty Claypole described him as a "creative powerhouse" who "created and delivered some of the greatest arts documentaries and series of our time".
He added: "Richard was kind, fiercely intelligent and a truly original thinker. The films he made, and the family of directors and production teams he nurtured around him, are an extraordinary legacy.
"We miss him immensely and our thoughts are with his family and loved ones."
Prior to BBCS, Bright held senior development roles with Tiger Aspect, IWC Media and Flashback.
In all, he was responsible for more than 100 documentaries across arts, history and music.