Oliver Dowden plays down 'not very compelling' argument as he focuses on threat of SVoD rivals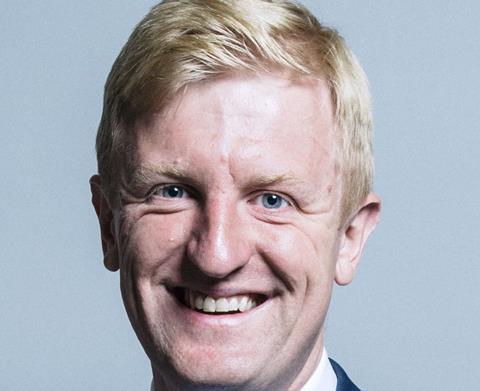 The new culture secretary has played down the need to reform the BBC's funding model while his department focuses on how the corporation can compete with Netflix and YouTube.
In his debut appearance in front of the DCMS Committee (DCMSC) yesterday, Oliver Dowden rejected talk of a 'broadband levy' or digital services tax to fund the BBC, which the corporation floated briefly in its recent response to the licence fee decriminalisation consultation.
Dowden described the argument for funding reform, which would come into effect at the earliest in seven years time, as "not very compelling".
"The licence fee is a tax already, so do we really want to replace one tax with another?" he queried.
His comments contrast with his predecessor Nicky Morgan, who described herself late last year as being "open-minded" about scrapping the £157.50 annual fee.
"The licence fee is a tax already, so do we really want to replace one tax with another?"
Instead, Dowden is focused on the fundamental question of "how the BBC fits into today's multi-platform landscape".
"Most kids are watching user-generated content, Netflix under lockdown has soared and the market has changed beyond all recognition," he posited.
Trading blows
Dowden found himself trading blows with committee member and former Labour shadow culture minister Kevin Brennan, who branded the decriminalisation consultation "tainted" and unnecessary since the issue was reviewed just five years ago.
"You have no mandate to pursue this," Brennan told Dowden, as the committee met remotely for the first time.
"Why didn't [the Conservatives] put decriminalisation in their manifesto if it was going to be the first thing you pursued once you won the general election?"
Dowden countered that the review "isn't about bashing the BBC" but is posing the question of whether it is appropriate to charge non-licence fee payers with a criminal sanction.
He added: "If we decriminalise, I don't want to send a signal that somehow you don't have to pay your licence fee any more. We expect people to be responsible and may have to look at options for stronger licence fee compliance absent of a sanction."
The BBC recently said it would lose more than £1bn over the next five-year charter period if decriminalisation is greenlit, due to higher evasion rates and extra administrative costs.
It also accused the government's consultation of "failing to address the fundamental question of how a new system would be fairer and more effective for everyone".
The government is likely to launch a second consultation soon on criminalisation alternatives, with the issue set to be decided upon in about a year's time.
Turning to the over-75 question, Dowden said it would be "inappropriate" for the BBC to ask them to pay for their licence fees while this demographic is currently under orders to self-isolate.
The BBC has already pushed back over-75 payments to August and Dowden said this should be prolonged if the lockdown continues beyond that month.
Freelancers and misinformation
Dowden was answering a wide-ranging set of questions on all areas of his brief, which he took up two months ago.
On the controversy of the thousands of freelancers falling through the cracks of the government's support schemes, he said "we have not reached the end of the road" and that the Treasury is still open to updating its guidance.
Broadcast understands yet another update to the HMRC guidance regarding the Coronavirus Job Retention Scheme could be imminent, potentially paving the way for more freelancers to get help.
Earlier in the day, committee member Steve Brine had delivered a passionate defence of freelancers.
"HMRC is not shy in clawing back money where they think it's been wrongly claimed and they need to get help to these people now," he said.
Dowden fielded a multitude of questions on misinformation related to coronavirus, including controversial theories connecting the virus with 5G that were propagated by David Icke on London Live, for which the local TV station has received an Ofcom sanction.
He described these comments as "crossing the threshold of danger" and said he is working with social media companies to prevent similar theories from being spread.
Dowden said issues arise when public figures outwardly rebut these conspiracy theories, as it lends them more airtime.
"If I tweet a rebuttal then suddenly 'the secretary of state has rebutted it' and news outlets will report that – so it is exposed to a much larger audience," he added.
This Morning's Eamonn Holmes landed himself in hot water last week when he appeared to defend the theory, before swiftly rowing back on his comments the following day.