Inside No. 9 producer Adam Tandy talks to George Bevir about creating a working 1970s drama set with period cameras and lighting for the return of the darkly comic anthology series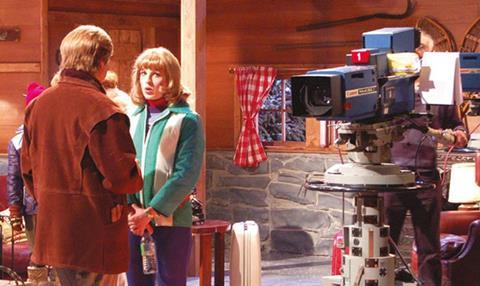 Production company BBC Studios
Commissioners Shane Allen; Kim Shillinglaw
Length 1 x 30 minutes
TX 10pm, Tuesday 27 December, BBC2
Director Graeme Harper
Writers Steve Pemberton; Reece Shearsmith
Producer Adam Tandy
Studio Elstree Studios
Studio services BBC Studioworks
Camera hire Golden Age TV Recreations
Editor Joe Randall-Cutler
Colourist Kevin Horsewood, Blue 2.0
Online editor Scott Hinchcliffe, Blue 2.0
Composer Christian Henson
Sound design Chris Maclean, CM Audio
Final mix Matthew Brace, Lucky Cat
Many broadcasters took strides towards the future in 2016, with Ultra-High Definition (UHD) programming, and the year was capped off by the BBC's decision to show some Planet Earth II footage in the format on iPlayer. But producers of one of the BBC's final programmes of the year chose instead to rewind to the technology of the late 1970s.
The Devil Of Christmas is the first festive instalment of Inside No. 9, Steve Pemberton and Reece Shearsmith's darkly comic BBC2 anthology series, and ushers in a third run that will play out in full next year. Set in a ski lodge in Austria in the 1970s, it features the mythological character Krampus, who punishes badly behaved children.
To meet the pair's typically exacting standards for authenticity, the production required the building of a working 1970s drama set, complete with broadcast technology true to the era, including vintage tube-based studio broadcast cameras recording onto tape in 4:3, and period lamps. Producer Adam Tandy describes the episode as "pretty audacious".
"Reece and Steve's experience of multi-cam production was maybe limited to the first series of The League Of Gentleman in the 1990s, and that was when multi-cam was on its way out, so it was a bit of an undertaking," he says.
With the show usually helmed by a single-camera director, Tandy opted instead for someone with multi-camera experience – Graeme Harper, a veteran whose credits include both the original Doctor Who and its 21st century reboot, plus Coronation Street, The New Statesman and House Of Elliot.
"We tried to get an authentic feel for what the production process would be," says Tandy. "The only way to do it was to get the equipment out of museums and record it in an authentic style."
Having been granted permission by then BBC2 controller Kim Shillinglaw, vintage kit was sourced from Golden Age TV Recreations, including three heavyweight Ikegami HK323 cameras and one lightweight Ikegami HK323P. To support vision control and lighting for the equipment, a temporary gallery was built in a neighbouring studio. The 4:3, 625-line PAL pictures were then monitored in a regular HD production gallery.
The cameras, which have been used to provide a vintage look for music videos for Paolo Nutini and the Arctic Monkeys, date back to 1984. They are the last generation of tube cameras, according to Golden Age TV Recreations' Dicky Howett. It took four weeks to get the cameras working and in a condition to stand up to the rigours of a two-day shoot.
Authentic process
Couldn't the desired effect have been recreated in post? No, says Tandy. He points to the particular colorimetry of a tube-based PAL camera. The artefacts they capture when pointed at a bright light and the trails left on an image – an effect seen in the opening shots of the programme – would have been hard to fake, he says.
It was only on the second day of the two-day shoot that one of the cameras started to struggle. "That felt authentic – it was like the unions had come to get us," says Tandy. "The output from the Ikegami tube cameras was otherwise excellent.
Recorded digitally, it stayed beautifully crisp: way too clean compared with drama productions of the period, when two-generation analogue tape loss was considered more usual."
An offline edit by Joe Randall-Cutler was needed to play with alternate takes and cut the programme to the required duration, but wherever possible the line cut was maintained and the ISO (isolated) recordings were used only when strictly necessary.
"We left it realistically baggy as a multi-camera production would have been," says Tandy. "In those days, you had a maximum of two edits before you would start to lose definition in the picture."
The graded programme was transferred from HDCam tape to one-inch Type C, and back again, for some generation loss and tape-transport effects. The hardest part of that process was sourcing the one-inch tape stock, says Tandy.
"Our agreement with BBC2 was that the show had to start and finish with 16:9 pictures, and be delivered as an HD AS-11 file, so it made sense to conform our 4:3 rushes and transcode to 4:4:4 16:9 HD for the grade.
"This allowed us to keep to our standard workflow, but the addition of a voiceover and one-inch effects work meant that the online and dub had more to-and-fro towards the end, with the final edit being more of an old-school picture and sound edit than just picture finishing and layback."
The Devil Of Christmas was shot in Elstree Studio D, close to Studio C, where classic anthology shows of the period such as Thriller and Beasts were recorded. Both are clear inspiration for much of Pemberton and Shearsmith's work. "It felt in a way like we were coming home," says Tandy.
KEEPING IT REEL-TO-REEL
"We hired a Nagra IV-S reel-to-reel for some audio effects," says Tandy. "Rather stupidly, we chose to do the audio in the same week that someone had hired almost every reel-to-reel machine for a pop video, but Richmond Film Services eventually came up trumps with the Nagra."
Composer Christian Henson used Spitfire Audio samples from a Roland System 100M synthesiser previously owned by The Human League to provide the electronic component to the score. Tandy adds: "All the music, set dialogue and effects were recorded and mixed in mono, but the added voice over was mixed in stereo, so the final programme is actually stereo, but only a tiny bit."
SOUND EFFECTS
Dialogue editor and sound designer Chris Maclean adds: "We added some Foley to the programme at the start, but we reduced this and the number of music cues when it becomes clear we are in a studio: the only sound effects we added were those that would have been played in by the gram op on set, such as thunder and some background."