But TV is still declining as a news source, according to Reuters report
Public service broadcasters are the UK's most trustworthy media sources of news, with BBC News leading the way, according to Reuters' Digital News Report.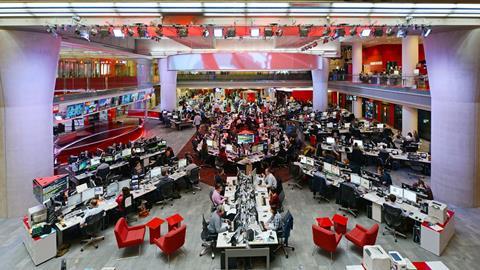 BBC News scored a 'brand trust score' of 7.02 out of 10, with ITV News on 6.79 and Channel 4 News on 6.68, from the 2,117 people in the UK polled by YouGov for the news agency.
This put the broadcasters ahead of regional and local newspapers (6.42) and the most trusted newspaper, The Times (6.35). Both of these trumped Sky News' 6.26.
However, in terms of brand loyalty, C4 News comes out on top. Based on just those people that consume the news output of each brand, the ITN-produced show's score rises to 7.51, ahead of BBC and ITV's 7.35 and Sky News' 7.29.
BBC News remains Europe's most successful public broadcaster with a 64% reach in TV and radio and 43% online, though both measures fell by 4% on 2017. ITV News' reach is static at 33%.
Of those using BBC News Online, 14% said it was their only online news source; in all other markets, 5% or fewer relied solely on public broadcasters for news on the web.
TV decline
Reuters also details how TV has declined as a news source over the six years that it has published its report. In 2013, 79% of respondents watched TV news; this has fallen to 66% in this year's report. Social media, which overtook TV in 2016, remained flat at 74% over the period.
In 2017, mobile phones took over from computers and laptops as the main device for accessing news.
Globally, the survey of 74,000 people in 37 countries indicates that social media users are putting less trust in Facebook as a source of news, with WhatsApp becoming more in vogue.
In the UK, 27% of people had used Facebook as a source of news in the past week, a 2% drop on 2017. The US reported a 9% drop to 39%.
Podcast challenge
A third of the global sample listen to podcasts, but the UK has the joint lowest penetration of any country. Just 18% of Britons listen to a podcast at least once a month, in line with the Netherlands and less than half the proportion of people in Ireland (38%).
Reuters posited that radio loyalty and relatively shorter commutes by car could be influencing factors.