A supernatural meditation on ageing and a return to his Yorkshire roots lures Michael Palin back to TV drama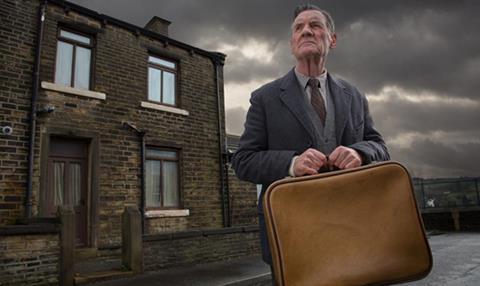 Production company Mammoth Screen
Commissioners Ben Stephenson; Danny Cohen
Length 3 x 60 minutes
TX BBC1, 26 November (TBC)
Writer Gwyneth Hughes
Director Ashley Pearce
Producer Chris Carey
Executive producers Rebecca Keane and Damien Timmer (Mammoth Screen); Gwyneth Hughes and Polly Hill (BBC)
Distributor TBC
In the foyer of the slightly optimistically named Scarborough Grand Hotel, Michael Palin looks confused. Compared with the twinkle-eyed peripatetic we know from countless travel documentaries, or the comic kingpin from this summer's Monty Python reunion shows, he looks older, more wrinkly and more serious. A threadbare cardigan over a grandpa shirt only antiquates him further.
As I stand and take notes, every now and then a passer-by asks me whether it really is Michael Palin. They're not used to seeing Britain's Nicest Man™ dishevelled and dreary. But then, nor are they used to seeing him acting in a straight role these days.
As soon as director Ashley Pearce (Accused) calls "cut", Palin is disarmingly back to his old smiley self as we sit down at the bar and his make-up is touched up. This is the set of Remember Me, a three-part, Yorkshire-set ghost story written by Gwyneth Hughes (Five Days, The Girl), and the locals can be forgiven their confusion: Palin has not played anyone but himself in a TV role since the heady days of Alan Bleasdale's GBH in 1992.
"I was ready to do some acting when this came along," he says by way of explanation for taking the role. "I felt like I'd done a lot of documentaries and that this would get me back to acting. I think it's something I can do. Hopefully it will all come back, the joy of playing another character rather than being yourself. The risk? You don't do it very well. You suddenly find out: 'Perhaps I'm not as good after all.' Maybe they'll think: 'We've got the wrong bloke.'"
Luckily, no one on the production thinks they've got the wrong bloke. Producer Chris Carey (Ambassadors; Run) says receiving Palin's voicemail message agreeing to take the part was his best moment of last year. "It was a joyous serendipity," he reflects. "I think he was quite excited that it's not what people might expect him to do."
Carey says he hopes the casting in general can discombobulate audiences by taking actors out of their usual comfort zones, notably Julia Sawalha as an out-of-control woman "a million miles from Ab Fab's Saffy".
Writer Gwyneth Hughes professes herself "absolutely thrilled" that Palin agreed to make his TV comeback on her new mystery.
"He's a huge hero of mine," she says, describing Palin's character Tom Parfitt as a frail old Yorkshireman seemingly alone in the world, whose admittance to a nursing home triggers a series of inexplicable events.
"This is a story about a man who's never been allowed to grow up. A very old man who has never grown up; who's 10 years old forever. Michael has that 10-year-old in him. It's always there. He's a man who is 10 and 70. And that's so charming; it's at the heart of his appeal. He's a huge star and I want him to stay put and do my next series – to be my in-house actor."
It helped that Remember Me is a ghost story; Palin loves ghost stories. Yet British TV currently has a mixed relationship with the supernatural, to the point where there was some debate among producers and execs as to whether Remember Me should be described as a ghost story at all. "It's a character-led drama with an additional ghost really," declares Carey. Hughes, however, is adamant that a ghost story need not be facile, nor contain characters picking up tea cups only to drop them in cod horror.
"I'd kill to have more ghost stories on TV and I think lots of people feel that way. I don't think this is a Halloween piece – it's not spooky like that – but I don't know why we don't mark Halloween better or why we don't do more ghost stories at Christmas.
"My dad was a really literal person. He used to say: 'You can't write a ghost story because it has to turn out in the end that it wasn't a ghost – there aren't such things as ghosts.' I'd say: 'Dad, it's fiction, there can be anything you want there to be.' In this case, it's a way of telling a story about loss or love."
Back on set, Palin emerges from make-up looking superannuated once more. He may be 70 but Tom Parfitt is 80. Is it disconcerting for Palin seeing a possible version of his future self?
"Not disconcerting. It's intriguing to see what I might look like when I'm older. But I don't think of it as me; I think of it as: 'I'm going into this character; I'm becoming Tom.'"
Born and bred
That process in itself has, however, forced Palin to consider his own psychology and mortality.
"I'm 70 years old now," he reflects. "I've had to think what it's like to slow up, be a frightened old man. As I get older, I find it sometimes less easy to relate to the rest of the world. Everyone's younger than you are – if you're not careful you can feel a bit invisible sometimes. I can relate to that and that's part of the paranoia and the fear that's in the character."
If that side of Remember Me took him out of his comfort zone, filming in Yorkshire was more like a homecoming for the actor, who famously mocked his roots as one of Python's Four Yorkshiremen.
"It's quite nice it's set up here because I was born and brought up in Sheffield and I like the Yorkshire approach to things – that dry humour and direct manner," he says.
"I've felt quite comfortable here, doing a Yorkshire accent, and I've filmed a lot up here – Python, Alan Bennett's A Private Function, they were all done in Yorkshire. It's interesting because the first real acting I did was in Sheffield in my gap year. There's no feeling of going full circle, but it's just like picking up the thread in my life from the last time I was acting in Yorkshire."
The extremes of age hold a particular appeal for Hughes, who notes: "Most of my stuff has old people in it, or children – it's a producer's nightmare."
Writing older characters unlocks certain truths in storytelling because of everything they have seen and done, she says. "As they get closer to death, they clearly have really interesting, inherently dramatic situations: how to live well, how to get to the end of your life."
A historian by training, she knows of what she speaks: "I've interviewed more old guys with medals on their chest than I've had hot dinners," she laughs.
And then there's the added bonus of casting your heroes. "You do get these great casting opportunities," she says. "I mean, for five days we had Edward Woodward. People think it's not box office but lots of really big stars who are dead-old will turn out – Michael isn't that old. Fantastic people will come, because they never retire."
Remember Me: It started with a song
Some TV series come from a single character, some from a true story, others from a book. Remember Me came out of one of the world's best known and oldest folk songs.
"I was very excited by the idea of doing it around Scarborough Fair," says writer Gwyneth Hughes, in reference not to the famous Simon and Garfunkel version, but an earlier lyric that expanded on the song's core theme that an unnamed figure may only be 'a true love of mine' once a series of impossible tasks have been achieved.
"It's the idea of 'why give somebody a series of impossible tasks?'" she says. "I think I was reading a folklore story from the West Country describing how there used to be parsons who would come and 'lay' a ghost for you; almost do an exorcism. They laid the ghost by setting it an impossible task. I thought: 'That's great. That's what Scarborough Fair is all about.'
"I went all over the internet - nobody else had come up with this barmy idea. No folk lorist anywhere in the world has ever suggested that these impossible tasks are for laying ghosts but it just seemed like a cute idea. That's where the whole thing came from."