Bringing a fresh feel to a much loved format was at the foremost of our minds says executive producer Pete Ogden
Production company: BBC Studios Entertainment
Commissioner: Kate Phillips
Commissioning editor: Neil McCallum
Length: 12 x 45 minutes
TX: Saturday 18 December, 6.10pm
Executive producer: Pete Ogden
Series producer: Gillian McNeil
Senior development: Executive Dylan Todd
Director: Babs Wiltshire
Production manager: Stephanie Barrett
Post house: BBC Scotland
Bringing back a heritage show like The Weakest Link is exciting and scary in equal measure. A cliché I know but it's genuinely how it felt.
You want to make sure you respect the format, and the huge success of the Anne Robinson years, whilst also make the show feel fresh contemporary. We had to settle in a new host, and a new tone. It was important to make sure fans of the show still love it but try to bring a new audience too.
When my boss Suzy Lamb (BBC Studios' entertainment and music managing director), first spoke to the BBC's director of entertainment Kate Phillips about the show we thought Romesh could give us the watertight technical skill you need to host a quiz like The Weakest Link but also the perfect gloriously deadpan humour to give it his own stamp.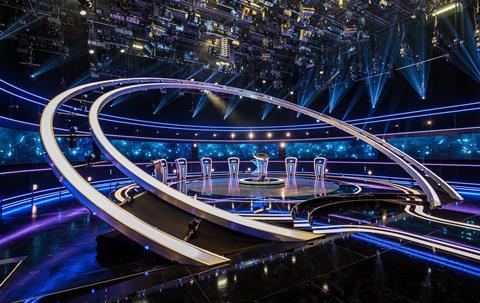 We approached him back in early 2020 and whilst he admitted he'd never seen himself hosting a quiz show, this was one that he - and just as importantly, his wife – loved.
Like any show, before committing to a series we knew we had to get it on its feet so we could find the new tone and see how it felt. So we headed to a hotel room in Crawley to do exactly that.
Kate Phillips and Neil McCallum attended, and our development team came along and pretended to be contestants who were all children's television presenters. The run through was great, I sometimes wish we could put it on TV. Rom was hilarious and immediately we found the new tone for the format. We still made fun out of daft answers, celebs are fair game after all, but we decided it should always feel affectionate.
The BBC wanted this series to be a shoulder-peak version with celebrity contestants, so a new set and look had to reflect that.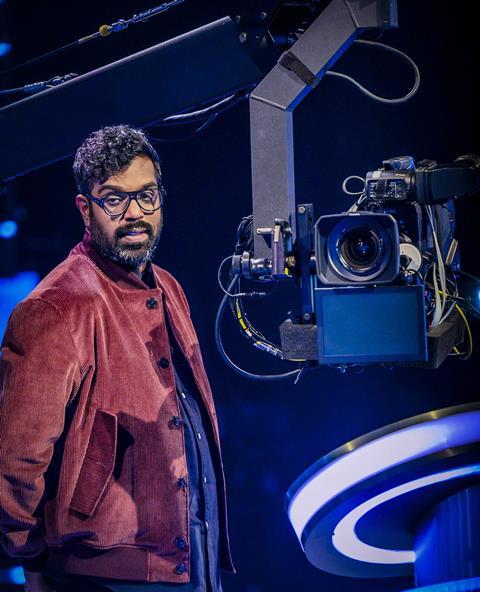 The show was to be made in Scotland, at Pacific Quay so the next challenge was finding space in Rom's diary, we needed six consecutive days. Turns out that's a tall order. Finally we found a week that worked. The only gap he had. The week of 8 October, in Glasgow……. Right in the middle of COP26!
Booking celebrity talent for shows is an art form of its own and I take my hat off to everyone who works in that world. However, getting 96 celebs to Glasgow, during COP and a pandemic was a mega feat. I was so pleased with the cast and out of 96 celebrities there were only two that didn't make it to studio. They shall remain nameless. We even managed to film a Strictly special, which will be our first show – during the Strictly run.
Being from an entertainment background, I knew I needed an excellent senior team around me who knew quiz and had experience of making this show. Step forward Glasgow-based series producer Gillian McNeil, who was one of the team who originally brought the show up to Glasgow during the Anne era, and Dylan Todd, a senior development executive on our development team with a ton of quiz and game experience. He assembled our incredible question team.
The Weakest Link has a very specific question style which we wanted to keep and honour, so the game felt the same in our new version, and audiences coming back to the show would enjoy the familiar style of the iconic Weakest Link questions
My tricks of the trade - Pete Ogden
Admit when you don't know something, no-one knows the answer to everything
Surround yourself with people who aren't afraid to disagree with you, and create a culture where it's OK to do so
Understand your short comings and if you can, bring in people who have the skills you don't
Let them team know you don't expect them to constantly look at emails, and then lead by example
If you make a mistake, apologise and own it
For the relaunch we introduced picture questions to give viewers another way to play along, which had been successful in both Australian and American versions of the show.
We also brought in a bank button this time. The graphics and logo were brought up to date, and the music had an update but it's so memorable and brilliant we didn't want to mess with it too much. We talked a lot about format tweaks but ultimately felt that a new host, new tone and new look would make the show feel new.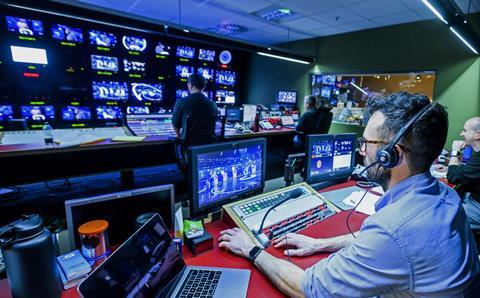 One of the things I love the most about the show is the chance between each round to roast the celebrities and adlib. It's the place I was most in awe of Romesh. He would give us a few minutes of, adlibbed comedy, it was quite something to watch. Especially when he had to do it 72 times in the series.
I hope viewers feel we have respected such a well-loved format. Making a warmer version of the show without losing the pressure and the sass of the original was a difficult line to tread but an important shift to make.
Barbara Wiltshire, director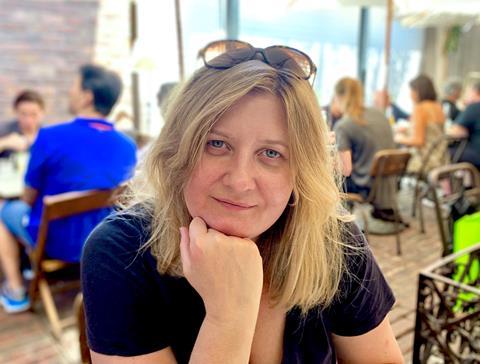 When I found out that the incredible quick-witted talent of Romesh Ranganathan was hosting BBC's The Weakest Link I jumped at the offer to direct the series and started to think about how this iconic show could be reimagined for today's audience.
Patrick Doherty's beautiful design gave a nod to his original Weakest Link design while creating a fresh new 360 degree set that had incredible scale and high production values, this was enhanced by Roger Williams' impressive lighting design and graphics fed screens to create a slick and stylish environment for this new incarnation of one of the world's most successful formats - no pressure!
Shooting in the round always brings a set of challenges for a director, so it was essential to navigate this while also wanting the camera design to inject new energy into the show.
Joe Finan, camera supervisor, and I talked through the camera design, with a two pronged approach, to keep the intimacy of shots for the comedy and to also exploit the scale and architecture of the set. We created camera hides to ensure we kept the right side of the line for all of Romesh's interactions with contestants, which required Canon 95:1 lenses to shoot across the 70+ foot from camera hide to contestants.
A slung overhead camera captured the structure of the gameplay which was reflected in the graphics design, it also celebrated the beautiful symmetry of the set. I felt the iconic panning contestant shot was important to replicate, this required the set to be altered to allow the jib to obtain the optimum position to achieve the shot, without compromising Patrick's design.
Finally, Joe and I agreed that a steadicam would capture the visceral reactions to the high pressure game play and Romesh's roasts with an immediacy and intimacy only a steadicam can achieve.
It would also allow us to enhance the storytelling of the relationship between the contestants as their narrative changes so quickly from a collective with a mutually beneficial aim, to a group of hostile individuals focused on their own survival.
Fortunately, the talented individuals who worked with me to make the series managed to remain a collective and that team approach has given rise to the new The Weakest Link, that has hopefully managed to hold onto the essence of the show while taking creatively exciting steps forward.