A unique portrait of childhood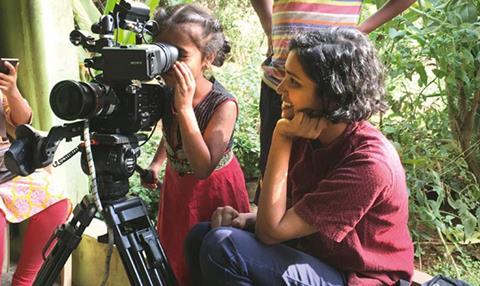 Production company Evans Woolfe Media
Commissioner Kay Benbow
Length 20 x 15 minutes
TX 5 June, CBeebies
Head of production Sally Ashwell
Series producer Dominic Sant
Series director Rhonda Evans
Directors Tim Duck; Robin Toyne; Lucy Thwaite
Executive producers Harvey Woolfe (Evans Woolfe Media); Anne Gilchrist (CBeebies)
Capturing the lives of eight young children in eight different countries in just over a year was a massive undertaking.
We had previously filmed assignments in schools around the world for educational projects for the likes of BBC Bitesize and Teachers TV, but this global narrative was missing from pre-school television. Our research showed that UK children regarded the lives of their peers in other countries as dominated by poverty and war.
Following an initial pitch to CBeebies controller Kay Benbow and executive producer Michael Towner, the project was commissioned.
Strict rules
On a tight budget, our local fixers were crucial and required a unique combination of skills: translating, setting up complex shoots and acting as a child psychologist.
With strict rules surrounding payments to contributors on documentaries, we also needed tremendous goodwill from the families, who had to entertain a crew in their home for 10 consecutive days.
Above all, we had to keep in mind that we were simply filming one child in a country, and avoid any sense that the child represented that country.
Taster tapes were sent via WeTransfer and WhatsApp for us to shortlist the strongest characters before flying out. On location, the directors had a three-day recce to make a final decision before filming commenced.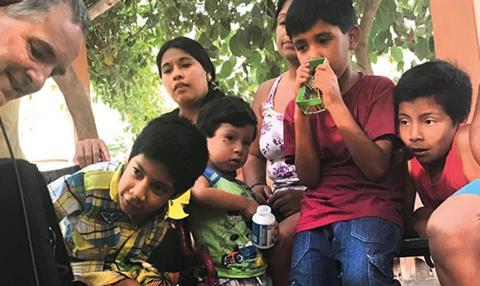 It took weeks, sometimes months, to wade through the bureaucracy of international entry visas and filming permissions. In the 20 years we've been working overseas, getting into a country to film has become significantly more complex, both through enhanced security and media sensitivity.
Our visas for Russia were withheld for several weeks for no apparent reason, while the Indian permissions took five months to be processed in Delhi. Our head of production spent many days and nights trying to navigate her way around the most obdurate of officialdom.
Then, just before our first shoot, three things were sent to test us. First, Brexit: overnight, our overseas costs shot up by 10%. Next, unprecedented flooding in Peru meant a last-minute location switch away from an Andean mountain village, where the only exit road had become impassable.
Finally, our series director was hospitalised three days before leaving for the Canadian Rockies after picking up a parasitic liver infection during the shoot in Ghana.

My tricks of the trade Dominic Sant
When providing links to previous projects for foreign filming permissions, resist the temptation to show off your best work. Keep your examples as unthreatening and anodyne as possible.
Never try to bamboozle child contributors. They tend to be a lot sharper at reading you than adults.
And they are sterner critics.
When applying for overseas filming visas, take double or even treble the time advised for obtaining permission.
When working with children, plan your schedule carefully, filming for short periods with plenty of breaks.
Make sure directors have sufficient pre-filming time to build a relationship with the families, especially
the children.
Despite our overseas experience, the project presented a number of cultural and ethical dilemmas. Many of our contributors cycled without a helmet, walked to school alone, climbed trees in their bare feet, played unsupervised swimming games and used sharp knives to prepare food.
How could we reconcile the UK's rigorous approach to the protection of child contributors and young viewers with the cultural and social norms in localities with a very different attitude to risk, health and safety?
Helmet-free cycling proved too problematic to include, but with activities like swimming or climbing trees, we either included shots of adults watching or made it clear in commentary that the behaviours were tried and tested and of minimal risk to the children involved.
Similarly, should we select a child who lived in a family unit of a mother, father and father's second wife?
This is a common practice in the country in which we were filming, but officially illegal: in the end, that child didn't make the final list, but our stance was that the focus should always be on the child rather than their parental situation.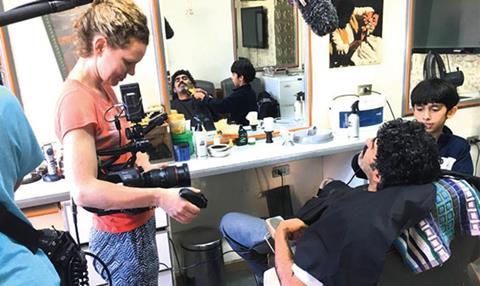 There was one constant: our wonderful child contributors. We found Hamza flying a kite from a rooftop apartment in Amman, five-year-old Tyra demonstrating the sharpest of business skills on her grandma's clothing stall in Accra, Anushka playing hide and seek with her brother Akhilesh, and Russian twins Liza and Styopa picking blueberries in the local woods.
Working with our young contributors was exhilarating and rewarding, though at times challenging. Young children tire more quickly than adults, so filming was restricted to a few hours each day.
They are also strong-willed, with minds of their own. Sibling rivalry reared its head on more than one occasion as brothers and sisters tried to muscle in on screen time.
In Peru, seven-year- old cousins Angel and Santiago were used to roaming the local hills and countryside at will, so were reluctant to be tied down by call sheets. Our directors had to continually find ways to make filming interesting for them.
Where In The World? offers CBeebies viewers a unique portrait of childhood around the world. Perhaps its clearest message is that children, wherever they live, have a lot more in common than we adults might think.
Producing a visual feast
Rhonda Evans, series director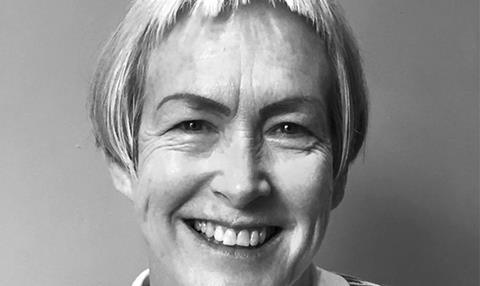 We wanted our films to give viewers an insight into the lives of other children around the world, but at the same time provide a visual feast.
Our main camera, the Sony PXW-FS7, coped brilliantly with the fierce sun and freezing cold. Our second camera, a £500 DJI Osmo handheld, added a degree of dynamism, but caused a few problems, mainly through overuse.
We intended this simple, lightweight camera to be used when children were running around, but because of its portability, it was tempting to use it more often.
However, the quality of the image wasn't in the same league as what we got from the £8,000-plus FS7, and we spent hours trying to address this differential in the grade.
Our main challenge, though, was not pictures, but sound. Several contributors didn't like the encumbrance of a radio mic pack and two or three days into the 10-day shoot, particularly in hot countries, they would refuse to wear them.
One sound recordist rigged up a cotton sash when a five-year-old complained that the nylon band was itching her skin. This helped, but it was still not popular.
However, once we explained the purpose of the pack and how crucial it was in allowing the children to be heard, they generally became more sympathetic. Nevertheless, as each shoot progressed, we relied increasingly on the boom.
On my own shoots, I worked with UK crews, though some directors worked with overseas recordists who had limited English.
This worked well, apart from in Peru, where we were told there were only three sound recordists in the entire nation. The one we found arrived with a 12-track mixer. He was highly experienced, but he was not used to shooting observational documentary and insisted on using a clapperboard. It also took hours to sync up the sound.
The director had little choice but to accede, but we paid the price in terms of how relaxed our subject, Angel, felt.