For its latest C4 fixed-rig series, production company Blast Films! called on the expertise of rig specialist Minicams to help it get up close and personal to the animals at Chester Zoo.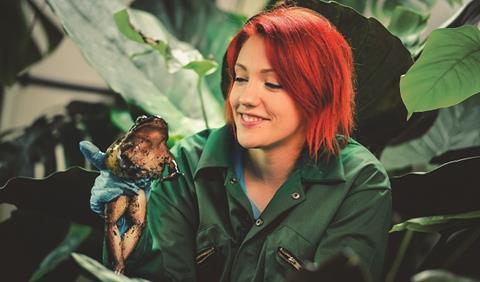 Blast! Films' fixed-rig forays have taken the production company to diverse locations – from filming the antics of passengers on a London night bus to capturing the dangers of working on a deep-sea fishing boat.
For its latest series, The Secret Life Of The Zoo, it decided to get up close and personal to the animals and keepers of Chester Zoo in a bid to show the lives of animals as never before.
"We wanted the animals to be the protagonists and to be able to tell the story from their perspective, which meant not having the bars of cages in shot," says Blast! head of programmes Nick Hornby.
"The only way to do that was to put cameras in the cages, which meant using fixed cameras. And we wanted the shows to include a broad range of animals, so we needed to be able to move in and out of different enclosures."
Blast! turned to Minicams, the specialist facilities firm it worked with on The Catch and The Night Bus. On The Catch, Minicams deployed its Micro-Rig – a modular set-up that can be configured with remote camera heads and mini cams – for the first time. It can be crewed by a single operator or by a crew of hot head operator, gallery director, sound engineer and vision engineer.
Guerrilla filming
"Minicams was very inventive creating a rig for The Catch, so we were confident it would be able to help with The Secret Life Of The Zoo," says Hornby.
"The Micro-Rig was stripped back, but the 'push through' in technology was the way in which the rig could be moved from one precinct to another – that was a step beyond The Catch towards a more guerrilla style [of filming] that was completely fi t for purpose."
The six-part series used the same core infrastructure as The Catch, but with fewer cameras and a greater emphasis on mobility and adaptability, in order to film around 20 different species on Chester Zoo's 125-acre site.
"Rather than a large-scale, 100 camera set-up, we provided a small unit with a single operator who could move around and install cameras, cables and other kit where and when required," says Minicams managing director Nick McLachlan.
Minicam's rack-mounted, modular Micro-Rig system housed signal routers, wireless audio equipment, a file-based recorder and switching equipment with the capacity to handle up to 12 cameras and 16 radio mics, all of which were operated from a van on site.
Minicams opted for Panasonic AW-HE60S and AW-HE130S robotic cameras (Panasonic's AW-UE70 robotic cameras will be made available for a 4K version of the rig from next month), along with a Marshall CV150 camera that was modified by Minicams' in-house engineering department for power over HD-SDI using RG179 coaxial cable, which is less than 3mm in diameter.
That allowed Minicams to discretely power the head to 30m on a single cable, which McLachlan said was essential for being as unobtrusive as possible, such as when filming a pregnant giraffe.
Pre-cabling some areas and the use of pre-installed camera mounts helped to speed up the rigging process, and in some of the trickier locations (such as the giraffe enclosure) cameras were left in place.
Because of the rigging constraints, it was not possible to install diversity audio receivers, so Zaxcom radio mics were used. The range of the mics proved to be "exceptional", McLachlan says, and because they recorded to mic packs, they also provided back-up and maintained audio coverage when contributors went "off rig".
Streamlining solutions
As with a traditional fixed-rig set-up, ambient mics were used along with the radio mics, and ISO recordings of all the cameras were captured. Minicams used a Quadrus Ingest Machine file-based recording system, which McLachlan says has "liberated" fixed-rig productions.
"[Quadrus] has streamlined the whole process and enabled shows to generate the amount of material that is required while maintaining the manageability of the media. With card-based solutions, the quantity of media required to capture what we did would have been unmanageable." Over a five-month period, some 24TB of footage was captured by the Micro-Rig, in addition to the rushes generated by regular PSC (portable single camera) filming.
"With tapeless, you can start recording in the morning and let it run in the background, or all night with infrared cameras. Then you simply hand all the footage to production on one drive," says McLachlan.
Soho facility The Farm was, rather fittingly, tasked with audio and picture post-production. Throughout the day, one person would manage the rig, operate the robotic cameras via a Panasonic AW-RP120 control panel integrated into Minicams' control system, and look after the audio and the record.
"The big challenge with a single-operator [rig] is it needs to be user-friendly," says McLachlan.
"We developed an in-house software control system that integrates all the kit."
As with The Catch, everything had to be operated at a low voltage. But instead of seawater seeping into equipment, this time it was the sharp teeth of the porcupines that could have been problematic. So rather than operate at 230 volts AC, they opted for 24 volt DC in case any cables were nibbled.
"The terrifying and wonderful thing about factual TV is that you are not always sure will it work until you start," says Hornby, who describes the series as "a very ambitious and risky project".
He adds that the "lean production" would not have been possible without the Micro-Rig.
"What is liberating is that if the narrative is right, you can now rig anything. It feels as though we are not a million miles away from the days of the DV director revolution of the 1990s, when people shot their own films. "Now, self-shot films are just part of how we make programmes and it feels like rigs are developing in that way; they are a tool available to all filmmakers that can be used in different ways."
The final episode of The Secret Life of the Zoo TXs on Tuesday 8 March, 8pm, C4