"A brilliantly conceived campaign and a genuinely well produced show"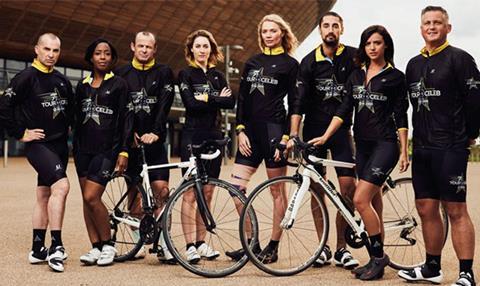 Skoda for Channel 5
Public scepticism of the Skoda brand was at the heart of this witty, mischievous format. Tackling public perceptions head on, Skoda chose the world of cycling as its starting point.
Reasoning that its cars are seen as merely 'functional', it played with its historical association with the sport, and the public's love of cycling, to generate affection for the brand.
Building on its sponsorship of events such as Tour de France and Ride London was the UK's first-ever ad-funded
primetime cycling show.
Eight celebrities, including cricketer Darren Gough, model/presenter Jodie Kidd and reality stars Louie Spence and Hugo Taylor, were given just three months to prepare for the brutal L'Étape du Tour.
Judges warmed to the reality format, which delivered a younger audience to C5: more than half were under 35, double the slot average.
They said it demonstrated the celebrities' commitment but did not shy away from the injuries they suffered along the way, and set a new benchmark for ad-funded programming.
"It was completely authentic and, as a piece of AFP, it demonstrated risk-taking and lateral thinking," the judges said.
"This was a brilliantly conceived campaign and a genuinely well produced show. By not taking itself seriously, Skoda sold more cars. If other brands had the same mischievous spirit, it would be great for AFP production."
SHORTLISTED
BLACK AND BRITISH SOCIAL MEDIA CAMPAIGN
BBC, Black Cultural Archives, Heritage Lottery Fund, National Archives, BFI and Historic England for BBC
The BBC delivered a "powerful message about diversity" with this cross-channel season, our judges declared. Timed to
coincide with Black History Month in October 2016, the initiative combined oral history, straight documentary, a BFI film season and a call for the public to share their stories.
The BBC's Black and British website is a "lasting legacy" resource, the judges said.

CRACKANORY
Audible for Dave
UKTV, Tiger Aspect and Audible deepened their relationship for series four of Dave's storytelling show, offering podcast versions of each episode plus five stories released exclusively on Audible under the banner 'Too Cracked for TV'.
Judges praised the "clever and relevant funding", which renewed and enhanced an existing partnership and "worked hard to make it relevant and rewarding to the audience".
DRIVEN TO DISTRACTION
Little Dot Studios for Aviva Insurance and All4
Second only to Made In Chelsea among All4's exclusives in the fi rst week of the campaign, and generating more than 4 million Facebook views, this entertaining celebrity-led series had a hard-hitting aim: to curb the bad driving habits that cause vehicle accidents.
"The brand partners took the risk with the broadcast partners and it paid off," our judges declared.
FORMULA E SEASON 3
Little Dot Studios and Aurora Media
Worldwide for Formula E Little Dot's second shortlisted entry also expertly walked the line between a social message - reducing vehicle emissions by promoting the use of electric cars - and sheer entertainment, while continuing to attract the biggest automotive brands.
Formula E doubled its average viewers with the beautifully shot third series, while tripling its YouTube subscriber base to 100,000.
POP UP START UP
Alibaba.com for CNBC International
Pop Up Start Up combined fact ent and documentary formats in a series that challenged 12 entrepreneurs to launch an investible business within eight weeks.
It became CNBC Inter national's biggest branded content show of 2016, reaching 110 million unique viewers in 108 territories, and helped B2B ecommerce website Alibaba.com reach its target audience of SMEs.