Taking the BBC's long-held tradition of storytelling into the digital era is no easy task – but the CBeebies StoryTime App more than delivered.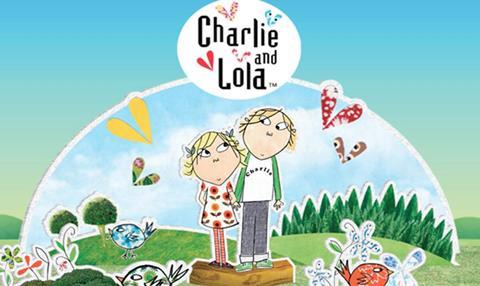 It is designed for a dual audience of children and parents and offers lots of interactivity, in the shape of interesting things for little hands to touch, swipe and play with.
The app incorporates the design of a book to create a visual association with traditional stories. The 3D pop-up style allows kids to open the book and physically turn each page.
The app was also created to be completely offline, so that families can use it wherever they are. It features familiar characters from CBeebies shows, such as Sarah And Duck, Peter Rabbit, Something Special and Charlie And Lola (pictured).
Launched on 1 August 2014, the app has been downloaded almost 1 million times in just eight months. On average, it receives 140,000 unique users a week, who generate nearly 300,000 weekly visits – suggesting it has a very loyal user base.
The judges were impressed by the "great interface, design and content", and were universal in their praise. "The StoryTime App is simple, elegant and well executed," said one. It was the clear winner in this category.
Shortlisted
Code-It
Nickelodeon UK and We Are Tilt for Nickelodeon UK
Code-It is an impressive part of a rapidly expanding slate of projects designed to help children explore the fundamentals of computer coding. Kids can animate the likes of SpongeBob Squarepants and Teenage Mutant Ninja Turtles and submit them to the community, as well as building on work created by others.
Dixi 2: Dixi Unchained
Kindle Entertainment for CBBC
This was the second instalment of CBBC's first online drama, a cyber mystery series set in the world of social networking. It plays out in twice-daily three-minute webisodes, which are uploaded onto a specially created social networking site called Dixi. The second series is about the friends falling out when a 'cursed' chain message is posted on the site.
Junior Vets
True North for CBBC
The digital home for the hit CBBC series also features high-end desktop and mobile games. Junior Vets: Surgery is an immersive desktop Flash game, while Junior Vets: On Call was built in HTML5 to work on desktop, tablet and mobile. This is a multi-level game with challenges including herding cattle and rescuing a poorly lion at a safari park.
Make It: Technobabble
Aardman Animations for CBBC
This simple drag-and-drop game-making tool that challenges children to test their skills and experiment with new ideas was designed to turn young digital consumers into digital creators. Make It: Technobabble has facilitated complex games where players have to control multiple characters at once.
The Doctor and the Dalek
Somethin' Else and BBC Wales Online & Learning for BBC Learning
This game introduces players to fundamental coding principles by combining 2D platform elements with 3D learning junctions. It is based on an original story from Doctor Who and Wizards vs Aliens writer Phil Ford, features Daleks, Cybermen and Sontarans, and is voiced by the Doctor himself, Peter Capaldi.