"An interactive show that performs on storytelling, jokes, production value and neat engagement ideas."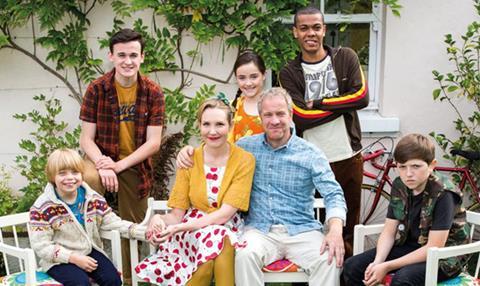 Zodiak Kids Studios for CBBC
What most impressed the judges about Secret Life Of Boys was that it delivered what it promised: a high-quality, fully interactive experience, which drew almost universal praise.
Twice as long as the first run, series two comprised 50 x 5-minute interactive episodes and 102 x 1-minute unlockable secrets, which were repackaged and broadcast as a 10 x 22-minute traditional sitcom on CBBC.
The show tells the story of 12-year-old Aussie Ginger Boxwell, who has spent the past year living in the UK
with her four male cousins.
As children watch the interactive episodes, playful buttons pop up for them to press (which more than 88% choose to do).
These offer unexpected punchlines, ridiculous action replays and surprising new perspectives. But for those who choose not to, the episode continues without pause.
This is a programme with broadcast TV scale and quality, but led by the interactive elements.
The digital component is not a bolt-on or an afterthought and writer/creator Anthony Q Farrell (The American Office) developed a scripting grammar that included the interactive content without sacrificing the story or its character.
"Finally," enthused one judge, "an interactive show that performs on storytelling, jokes, production value and neat engagement ideas."
HIGHLY COMMENDED
BEANO
Beano Studios for Beano.com
Launched in September 2016, this free online portal serves up 50 new pieces of content every week. Videos, listicles, games, quizzes, puzzles and drawing challenges are all part of a 21st century revamp for the 79-year-old comic brand, with a new CBBC series due in November.
SHORTLISTED
SELFIE SHOOTOUT
Megalomedia for CBBC
An exemplary exercise in engagement, CBBC's Selfie Shootout asked kids to submit amazing selfies on the theme of summer for a unique montage of the CBBC logo. Encouraged by on-screen talent, 800 pictures have been
published to date.
SOMETHING SPECIAL - THE LOOKING GAME
BBC Children's In-House, BBC D&E and Aardman Digital for CBeebies
This fun, accessible memory game is aimed at kids aged 2-3, as well as children with special educational needs. Based on an element of the popular TV show, it was played by more than 500,000 children in its first six months.
THE PIXELARITY
Maker Studios for YouTube
Pixelarity is an animated children's show inspired by gaming. It bridges the gap between YouTube gamers and traditional media and has generated more than 7.2m views thanks to its light-hearted and well-designed execution.
THE WORST WITCH
CBBC In House Interactive and Goodboy Digital for CBBC
Players explore a world on a magic broomstick in one of the fi rst 3D open-world sandbox games built using HTML5/WebGL. Across desktop, mobile and tablet, it challenges kids to trade items for credits and upgrade their magic kit to complete their spell book.