Excelled in enhancing viewers' experience of both reality shows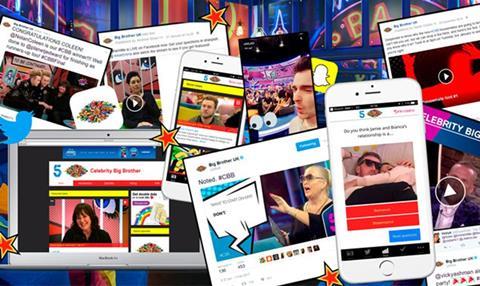 Initial Television and Endemol Shine UK Digital for Channel 5
Initial Television's digital strategy for Channel 5's Big Brother and Celebrity Big Brother excelled in enhancing viewers' experience of both reality shows, according to our judges.
Content was released across, and adapted for, multiple platforms and devices, catering to every audience, driving audience social engagement and TV viewing.
The strategy featured exclusive breaking news, such as contestants breaking out of the house or walking out
- and even the house flooding.
It offered 360 video tours of the house, Snapchat stories and takeovers of channels from brands such as Unilad, which ran behind-the-scenes footage of CBB in January, plus Instagram stories and a rolling updates feed.
Video highlights included exclusive daily diary room clips, housemate eviction interviews and Facebook Lives with presenters Emma Willis and Rylan Clark-Neal.
The strategy did the business for CBB and Initial: 56 million social video views, of which 40 million were on Facebook alone; 1 million Facebook page likes and 322 million impressions; 1.4 million Twitter followers; 6 million YouTube views; 26,000 Snapchat followers including a 75% open rate; and 221,000 Instagram followers.
SHORTLISTED
BIG LIFE FIX
BBC Studios Digital, BBC Factual Commissioning and BBC Taster for BBC Two
To support the show, BBC Studios Digital produced a series of micro-documentaries from the main episodes for BBC social and online platforms.
This included 3 x 90-second films for Facebook and Twitter distribution and slightly longer (three to four minute) shorts for BBC News Online. The total reach of the shorts on Facebook was 67.3 million.
BLACK AND BRITISH
BBC Studios Digital for BBC Two, BBC Three, BBC Four, Radio 1xtra and BBC Taster
To accompany the BBC's Black And British season, BBC Studios Digital launched a #blackbritishhero social media campaign, publishing content across 21 BBC social media accounts, including BBC Three, Radio 1 and BBC Sport.
#blackbritishhero videos were viewed more than 10 million times on Facebook and the hashtag achieved 250 million-plus impressions on Twitter.
EX ON THE BEACH DIGITAL
MTV.co.uk shows editorial team for MTV.co.uk
The MTV.co.uk shows team co-ordinated a record-breaking season for Ex On The Beach online, led by the original video series Shack Of Secrets.
Highlights included weekly sneak-peek videos, 20-plus pre-TX games/challenges and exclusive episodic digital extras, resulting in 5.1 million video views across the UK and Ireland.
THIS MORNING
This Morning digital team for ITV
This Morning's digital strategy is to use the programme's best content and original digital content to provide a fresh offering across different platforms. Perhaps its biggest success came with Facebook video How To Stop Your Baby From Choking.
The film generated 11 million views and is said to have saved seven children's lives already.