After being edged out last year by BBC Three, the Best Entertainment Channel award is now back in the hands of 2013 winner E4.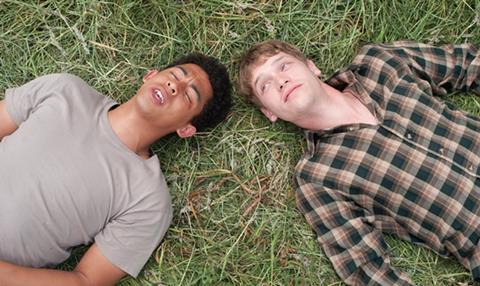 The youth-skewing channel had a strong year, increasing its share of total TV viewing by 5%, while its share of 16-34s was 5.47%, up 8% from last year. It was the 11th year in a row E4 had grown its audience, according to the broadcaster.
The judges felt that one of the reasons for E4's success, and what helped to distinguish the channel from its rivals, was its "consistent focus on the TV audience, programming and marketing".
Among the channel's creative highlights were two new shows that featured new on- and off-screen talent: eight-part drama Glue (pictured) and Banana, one of three interconnecting programmes overseen by Russell T Davies across the broadcaster's portfolio.
Noel Fielding's Luxury Comedy and Drifters both came back for second series, while notable acquisitions included The 100, Marry Me and Brooklyn Nine-Nine, which sat alongside strong established performers such as The Big Bang Theory.
The channel also made efforts to engage with its core audience on platforms it knows they frequent, such as Snapchat and Tumblr, which led one judge to praise the channel for "brilliantly occupying a space for youth-targeted entertainment programming".
Shortlisted
BBC Three
Despite the speculation around its future, BBC Three produced some standout moments in 2014. Notable successes included comedy Uncle, which introduced a wider audience to Nick Helms, and the return of Cuckoo, with Hollywood star Taylor Lautner, while the ambitious I Survived a Zombie Apocalypse breathed new life into the reality genre.
Dave
Dave was given an image overhaul in 2014. Out went the flock wallpaper and in came a slicker on-air brand. The personality of the channel was underlined through its opportunistic and reactive response to the Top Gear 'fracas' over on BBC2, while Dave Gorman: Modern Life Is Goodish, Crackanory, Ross Noble Freewheeling and Alan Davies: As Yet Untitled all returned to the channel.
ITV2
The launch of ITVBe in October last year led to a number of on-screen changes for ITV2, as reality shows such as The Only Week Is Essex, Millionaire Matchmaker and the Real Housewives franchise transferred to the new channel. This allowed ITV2 to increase its original scripted comedy, including comedyreality hybrid Bad Bridesmaid and series two of Plebs and The Job Lot.
MTV UK
MTV celebrated its biggest ever summer of live music in 2014. As well as staging MTVbranded live music events around the UK and Ireland, the channel struck exclusive partnership deals with music festivals and launched Soundchain, a TV showcase for live music.
TLC
TLC revels in its challenger status, recruiting outspoken and controversial personalities such as Katie Hopkins, whose My Fat Story, about obesity and Hopkins' views on weight loss, became TLC's biggest ever hit. Tina Malone and Jodie Marsh also led TLC's efforts to provoke and generate interest in the channel.