The Thames/Syco juggernaut continued to rumble on, steamrolling the competition to climax with a peak audience of 13.4 million viewers – and a whopping share of more than 50%.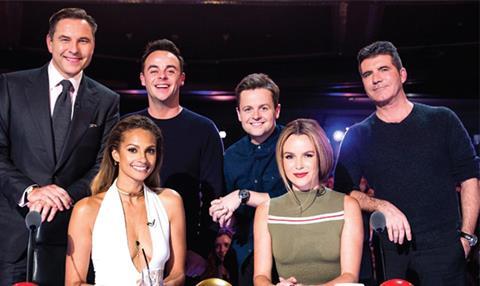 Britain's Got Talent
Thames/Syco Production for ITV
The Thames/Syco juggernaut continued to rumble on, steamrolling the competition to climax with a peak audience of 13.4 million viewers – and a whopping share of more than 50%.
Keeping such a major brand feeling fresh is no easy task and the strong mix of variety in episode one helped the ninth series establish the right tone.
From the outset, producers focused on warmth, variety and humour, including more interaction with effortless hosts Ant & Dec. Not all of this extra engagement was planned – such as the 'One Man and his Dog' act: a Yorkshire Terrier attempting a series of tricks before becoming distracted and chasing Ant.
Meanwhile, the judging line-up of Simon Cowell, David Walliams, Alesha Dixon and Amanda Holden had just the right chemistry.
Even the controversy surrounding the winner's use of dog stand-ins during the final failed to dent the show's popularity with the public, or the Broadcast judges.
"BGT is warm-hearted, supremely British and great family entertainment," said one.
Perhaps the show's proudest achievement is cementing its status as something the family can watch together, but that can still spark watercooler moments.
"It's the biggest show, featuring the best presenters at the top of their game," said another judge. "This is an event in everyone's calendar that improves year on year."
Shortlisted
Alan Davies: As Yet Untitled
Phil McIntyre Entertainment for Dave
The unscripted roundtable series tore up the rulebook with its relaxed and improvisational format, designed to allow entertaining moments to bubble up naturally. The first five-part series reflected the personality of the channel precisely and its run was doubled to 10 for the follow-up.
A League Of Their Own
CPL Production for Sky 1
An ambitious aerobatics VT in which James Corden and Jack Whitehall completed a loop-the-loop, aileron roll and stall turn was a series highlight. It capped an ambitious episode that showcased the heights producers climb for the Sky 1 stalwart, including a studio-based assault course, a musical number and a penalty shoot-out featuring Chesney Hawkes.
Release the Hounds
Gogglebox Entertainment for ITV2
Producing a genuinely scary show, mixing horror and entertainment, is tough enough – but this was exacerbated by the huge logistical challenge of shooting outdoors on location from dawn to dusk. Paying perfect homage to the horror genre, moments of humour were also injected – making for a dramatic and tense programme.
Taskmaster
Avalon Television for Dave
Borrowing elements from panel, quiz and gameshows, the anarchic unscripted format prioritises laughs over points. Orchestrated by Greg Davies and Alex Horne, five comedians compete in outlandish challenges in a range of locations including the Taskmaster 'house'. UKTV swiftly ordered two more series.
You're Back In The Room
Tuesday's Child Television for ITV
Stage hypnosis was revitalised for modern viewers, with care taken to bring warmth to the genre to delight and surprise a broad family audience. Cleverly baking believability into the format, any potential issues around authenticity were further headed off after trusted talent Phillip Schofield agreed to front the show, which aired to a peak of 5.8 million viewers.