For a brief time this spring, the goings-on at 7pm on Sundays on Sky felt like a collective fever dream.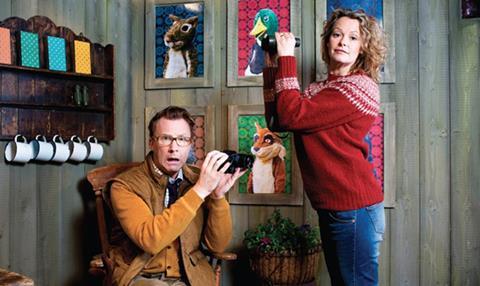 Scratching their heads, viewers pondered: "Did I really just see a giant owl clobber a squirrel with a baseball bat, a mole kick a stag off a log and a member of the public nearly drown in soup – all to the sound of Dead Kennedys, Mercury Rev, Madness and The Wombles?"
Yes, for six weeks, all pretence of normality was abandoned as Kate Humble presided over the oddest episode of Springwatch never made, with co-host Jason Byrne on commentary duty in full-on It's A Knockout! mode.
Banzai creator Gary Monaghan's imprint was all over this deliciously oddball physical gameshow, with the bickering between contestant pairings – one barely able to see in a giant animal costume, the other shouting instructions – adding a Gogglebox-meets-Creature Comforts layer of comedy pathos. The reveal of the costumed player at the end was the icing on the cake.
Sky 1 wanted something fresh and distinctive for family audiences and Wild Things had it in spades. Quite apart from the bizarre sight of the animal costumes, it looked beautiful thanks to its woodland setting and some shrewd editing ensured it never became repetitive.
Judges praised a "brilliantly bonkers format" that was "brave, fresh and distinctive". They concluded: "It has evolved into a must-see weekly show that is big, bold and very, very funny."
Shortlisted
A League of Their Own
CPL Productions for Sky 1
So important is this sports panel show to Sky 1, and to its host James Corden, that the star has a clause in his lucrative CBS chat show contract allowing him to take time off to continue with it. Eight series in, it shows no sign of going stale, with more than 750,000 tuning in to see ever more innovative and wacky stunts, such as pro-celebrity tennis with John McEnroe at the Royal Albert Hall.
Bad Bridesmaid
Fresh One and GroupM Entertainment for ITV2
This cheeky twist on the hen party made for an inspired pairing with ITV2's outrageous Celebrity Juice. The faux-reality format also offered a smart way of bringing new comic talent to the channel, with a roster of performers staying in character for four days as they cause unforeseen havoc for the bride-to-be. Among the target 16-34 audience, the show put ITV2 up 23% on slot average.
Bad Robots
Objective Productions for E4
The youth channel's hidden-camera prank show arrived under the radar and was a risky prospect. With no on-screen host, it relied instead on the quirkiness of its concept to charm viewers. The fresh take on the genre, which forces the public to confront technology gone wrong, has broad appeal and, unusually for the channel, has played both sides of the watershed.
Release The Hounds
Gogglebox Entertainment for ITV2
Hybrid entertainment shows are hard to crack, but this mix of horror, comedy and entertainment has been a winner for ITV2 since debuting as a Halloween one-off in 2013. Judges praised its filmic style, marvelled at the logistical challenge of the outdoor night shoots and noted its international sales, including to the US. A deserved second series is on the way.
Ross Noble Freewheeling
North One Television for Dave
Described by Dave as a "leap of faith", this unscripted, unplanned, loose travelogue format played to comedian Ross Noble's strengths as an improviser. It set him off on missions guided by his Twitter followers, and this level of interactivity marked it out as a shining example of UKTV's willingness to experiment with comedic forms. Its profile was further raised by guest spots from the likes of Eddie Izzard and Johnny Vegas.
Award sponsored by Pinewood