Discovery Channel went from strength to strength in 2014.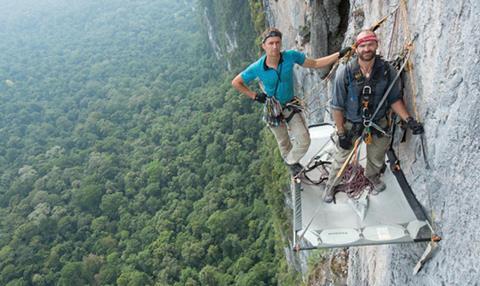 Long-running franchises such as Wheeler Dealers and Gold Rush – its top two shows of the year respectively – continued to perform well and its global commissioning strategy started to pay off, with a raft of original productions from the pay-TV broadcaster's London hub proving a hit with audiences.
Tigress Productions' Marooned With Ed Stafford, Back2back Productions' Richard E Grant's 7 Deadly Sins and Electric Sky's Lost Worlds With Monty Halls And Leo Houlding (pictured) all performed well, while fast-turnaround docs such as Sky Vision-produced Ebola Exposed and Flaming Star Films' After The Wave, about efforts to return home the bodies of those killed in the 2004 tsunami, helped keep it relevant in the specialist factual space.
Discovery Channel's valuable Shark Week franchise opened to a 12-year high, in part buoyed by a viral marketing stunt in Finsbury Park's boating lake, while its global event Skyscraper Live, featuring Nik Wallenda walking across the Chicago skyline, blindfolded and with no safety net, trebled its slot average.
The judges were impressed, with one saying it was a "clearly-defined, innovative and exciting channel".
Another said it "stayed true to the demographic, which is very impressive".
Shortlisted
BBC Four
The older-skewing broadcaster found success with factual programming such as Dancing Cheek To Cheek: An Intimate History Of Dance and Cosmonauts: How Russia Won The Space Age, as well as its BBC Four Goes Abstract season, while Storyville went from strength to strength, with films including The Lance Armstrong Story and India's Daughter.
BBC Three
BBC Three, which won the Best Factual Channel award last year, had another strong year. Hair averaged almost 1 million viewers and Life And Death Row challenged expectations and won huge critical acclaim.
History
The A+E Networks-backed broadcaster's primetime viewing is up 1% over the past 12 months, thanks to factual commissions including Pawn Stars UK, Curse Of Oak Island and Battle Of Kings: Bannockburn, as well as US shows such as Pawnography and Emmy-nominated The World Wars.
Horse & Country TV
The specialist channel had its best-ever year in 2014, with record ad sales revenue coming from more than 50 new advertisers. In addition to airing live equestrian events such as the Rolex Grand Slam, it commissioned a series of docs including Vet Essentials, Inside The Spanish Riding School and Horse Of The Year Show.
National Geographic Channel
The pay-TV broadcaster had a solid year in factual programming with Air Crash Investigation specials with Niki Lauda, new episodes of Street Genius and the second series of Arrow-produced Ultimate Airport Dubai. Air Crash Investigation and Science Of Stupid also helped it achieve record VoD viewing.
Award sponsored by Searchlight