"Wild" and "flawlessly executed"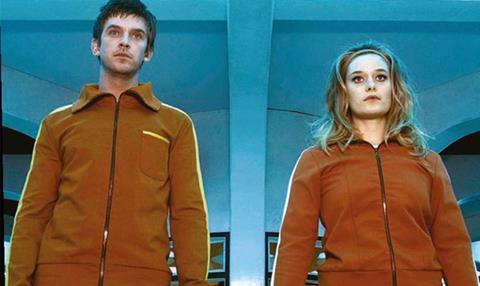 FOX
Stylish superhero drama Legion was a major success for pay-TV broadcaster Fox.
The show, set in Marvel's X-Men universe, averaged 440,000 (1.8%) across its eight episodes in February and March 2017 - significantly above the channel's 66,000 (0.3%) slot average.
The show, created by Fargo's Noah Hawley, is the latest US supernatural series to perform well for Fox UK, run by former Channel 4 and Channel 5 exec Jeff Ford, following the success of zombie drama The Walking Dead.
Legion brought an upmarket audience to Fox, with 65% of viewers in the ABC1 demographic, up from the
39% average.
The series stars Downton Abbey's Dan Stevens as a mutant who is diagnosed with schizophrenia at a young age.
It was commissioned by US cable network FX and produced by its in-house studio FX Productions and Marvel Television.
However, Fox UK had to acquire it from its sister company, against tough competition from linear rivals and SVoD services.
One judge called it a "wild" and "flawlessly executed" show with a "unique vision", while another said it was a
"fresh" and "savvy" acquisition for the channel.
It has already been recommissioned for a second series, which will air on Fox UK early next year.
SHORTLISTED
CLEVERMAN
BBC Three
Sundance TV and ABC Australia's drama was the first online-only acquisition for the youth-skewing broadcaster. The show, distributed by Red Arrow International, is set in a dystopian near future, when a species from ancient mythology arrives on Earth.
The first episode of the thriller received 570,000 requests on iPlayer and the series averaged 273,000 iPlayer requests.
GAME OF THRONES
Sky Atlantic
HBO's fantasy epic remains the most successful show on the pay-TV channel. Series six, which featured the shock return of Jon Snow, helped Sky Atlantic double its audience across the weeks it was on air, averaging 2.3 million for the 2am US simulcast and 1.3 million for the 9pm TX.
LOCKED UP
Walter Presents
The Spanish prison drama, known locally as Vis A Vis, was the most successful online-only Walter Presents acquisition. The show, produced by Globomedia for Antena 3, received 2.6 million views on All4, with 44% of viewers under the age of 35, up from the service's 25% average.
ROOTS
BBC Four
A+E Studios' four-part remake of the slavery drama nearly doubled the digital broadcaster's slot average with 1.3 million viewers. The series, which starred Malachi Kirby, Forest Whitaker and Laurence Fishburne, helped bring a new audience to the channel, with a five-fold increase in BAME viewers and 16-34s.
SEARCH PARTY
All 4
TBS's hipster comedy mystery was All 4's highest-rated exclusive of 2016 with close to 600,000 views. The online-only acquisition drew an audience that was 57% 16-34s, helping to drive 10% growth across the service as well as a 7% rise in box-set viewing.
The TBS show, which stars Alia Shawkat, is set to return for a second series.