"Gripping and impactful, and designed for maximum engagement"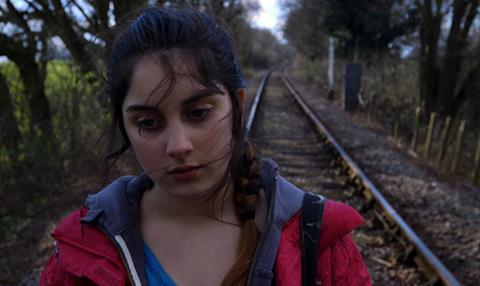 CTVC for TrueTube.co.uk
Adam Tyler's Refugee asks what happens when your country becomes a warzone, and your family is forced to leave.
We first meet 10-year-old Ashley and her white, British, middle-class family as they struggle to find safety, before the film rewinds to the moment when they go from citizens to refugees. The film encourages students to think about the refugee experience and connect with the crisis on a human level.
Ultimately, it asks them to consider how they might react if they, too, were made a refugee overnight. About 370,170 students have interacted with Refugee on TrueTube since its launch in June 2016.
Judges said the CTVC-produced short, which picked up a Children's Bafta for drama last year, was "beautifully
executed" and made with a specific audience in mind. They also described the 12-minute film as "gripping and impactful, and designed for maximum engagement".
Formed in 2007, TrueTube is an educational digital platform geared towards schools and young audiences. More than 800 films cover such topics as culture, relationships, society and ethics, and are paired with teachers' notes, assembly scripts and interactive elements.
TrueTube is run by non-profit indie CTVC, which has been making social issue-focused TV and radio for more than 30 years, with clients including the BBC, ITV, Channel 4, Channel 5, Discovery and National Geographic.
SHORTLISTED
#HOODDOCUMENTARY
Fudge Park for BBC Three
This wildly popular mockumentary from Tyrell Williams and Kayode Ewumi exploded on YouTube in 2015. It follows Reece 'Roll Safe' Simpson (Ewumi) as he chills in the 'hood and waits for his creative talents to be discovered.
After the YouTube episodes gained traction, BBC Three picked up the series in 2016 and published six new episodes.
#HoodDocumentary is currently averaging more than 600,000 views across all episodes on BBC Three's YouTube channel.
BAD SNAPPERS
Factory Films for Comedy Central UK
The 15 x 60-second sketch show, launched earlier this year, features female comedy pair Georgie Fuller and Danni Jackson, who play avid Snapchat users documenting everything from pre-drinks to toilet troubles.
Distributed on Comedy Central International's Snapchat Discover Channel and Facebook page, the series has been shown in multiple territories including the UK, Germany, Switzerland, Austria, the Netherlands, the Middle East and Latin America.
FRIGHT BITES
Fruit Tree Media for All 4
Film 4 and All 4 teamed up to launch six horror-themed shorts for Halloween. Each film was shot on a single day, and all were from new film-makers.
Some Bites, which made their TV debut on Film 4 as part of the FilmFear season in October, play on our most basic fears, while others feature more traditional movie monsters.
FRIGHTBUSTERS
Me + You Productions for Sky Arts
Frightbusters was among eight Halloweenthemed comedy shorts published by Sky Arts in October. The sitcom follows stoned conspiracy theorists Bongs and Ali as they appear on a YouTube show to reveal their encounters with the paranormal.
Writer and lead actor Guz Khan aimed to subvert traditional horror tropes by having non-white leads.
LIKE ME
CTVC for TrueTube.co.uk
Adam Tyler's Like Me asks how it would feel if logging onto social media was like going on stage. Like most TrueTube films, the short comes with a set of teacher's notes offering discussion topics and lesson activities.
The film can be used in assemblies, form classes and PSHE (personal, social, health and economic) lessons, where pupils can learn about online safety and cyber-bullying.