Total viewing of UFC 205 in New York reached 25 million UK video views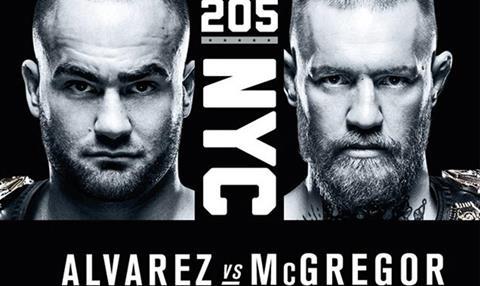 BT Sport in-house for BT Sport
BT Sport invested heavily in its digital and social coverage of Ultimate Fighting Championship (UFC) in 2016, providing real-time coverage of the world's fastest-growing sport straight to fans' mobile phones and tablets.
Total viewing of UFC 205 in New York reached 25 million UK video views - an impressive 500% increase on the weekly averages.
BT's innovations included live streaming simultaneously on Periscope and Facebook, interactive live interviews, real-time clips of fight finishes, social cross-promotion with BT Sport talent and 25-plus pieces of social content published each day of fight week. This content also helped BT Sport achieve a peak viewing fi gure of 230,000 at 5am.
As well as pivoting away from the traditional linear TV studio show, an extra feature of BT Sport's coverage was an original music video commission featuring grime star Big Narstie, combining quotes from UFC star Conor McGregor with fight action and footage of The MC rapping in a UFC octagon.
The judges praised BT's approach to the coverage as "truly innovative" and a "brilliant example of how to amplify an event on a relatively small marketing budget, through innovative content and smart use of social media".
SHORTLISTED
2016 RIO OLYMPICS
BBC Sport for BBC Four, BBC Red Button, BBC iPlayer and BBC Online
BBC Sport's Olympics web strategy broke all previous website and social media figures over the course of the 17-day event.
In total, there were 30 million views of live action during the games, with 14.1 million accessing via mobile. BBC Sport reached one in four of all of the Facebook accounts in the world.
MOTOGP 2016
North One TV for BT Sport 2
MotoGP has been hugely successful for BT Sport, becoming its second most popular live sport event, behind football.
One of the key successes is the MotoGP section of the BT Sport app, carrying seven extra video feeds for each qualifying session and race, as well as wider social media support.
PREMIER LEAGUE TONIGHT
Sunset + Vine for BT Sport
Following on from the Saturday evening match, Premier League Tonight is a relaxed, social media-led football chat show that has become the highest-rated studio show on BT Sport.
With a healthy community of engaged viewers of both linear and online content, the show racked up 5.6 million social views over its 23 episodes.
SKY NEWS EU REFERENDUM NIGHT
Sky News in-house for Sky News
The referendum night drama reached more than 10 million people on TV over the course of the results, giving Sky News its best day in five years.
But it was on mobile where Sky reached the highest heights, achieving its best day yet, with an interactive results page getting 6.9 million views.
UEFA CHAMPIONS LEAGUE FINAL
BT Sport in-house for BT Sport Europe
By broadcasting the Champions League final on YouTube for the fi rst time, as well as its own Europe Channel, BT Sport succeeded in making the event the biggest ever UK live stream.
With 1.5 million unique views across the match, peaking with 500,000, the match eclipsed Felix Baumgartner's Red Bull Space Jump.