On-screen stats and predictions aimed at enhancing viewer understanding of the sport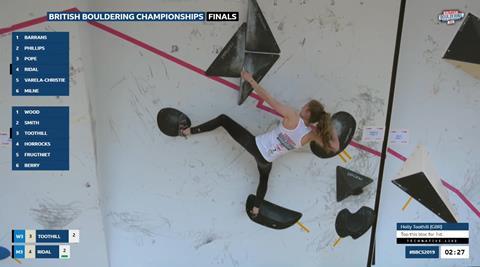 The La Sportiva BMC British Bouldering Championship 2019 in Sheffield earlier this month trialled a sophisticated predictive algorithm called Event Intelligence to make it easier to keep up with the action
The broadcasting partner of the event – Technative Live – developed the Event Intelligence algorithm, which calculates the different permutations for each climber in real-time as they climb the wall.
Details displayed on-screen by Event Intelligence (bottom right of the image above and below) include the climber's best possible rank; the guaranteed lowest rank for each climber; what the climber needs to do to move into their best position.
Additional intelligence provided through the system includes a climber's average time to top; number of tops; average time to zone; total wall time; and the total number of attempts made.
Technative director Simon Wadsworth, said: "It's taken months of hard work to develop this technology. It represents an important step forward in our efforts to continue to push the boundaries of live event streaming. Event Intelligence will make climbing competitions much easier to follow for casual viewers, while giving climbing fans more in-depth analysis of the competition than they have ever seen."
Technative producer Elspeth Yates, added: "We'll be developing the system further and using it at the European Lead and Speed in October. Event Intelligence can and will be translated into many different sports not just climbing."