Wins Focal International Award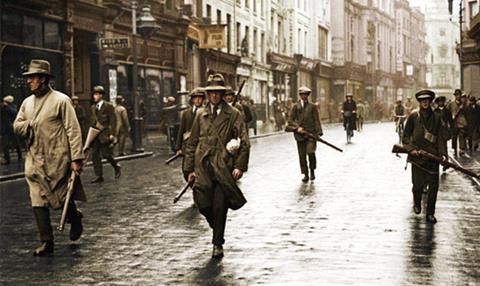 British Pathe was named Footage Library of the Year at the Focal International Awards last night.
The library beat San Diego-based Reelin' In The Years and ITN Source, which picked up a nomination in its last year of trading, to the award, which was sponsored by Broadcast.
The award recognised the launch of on-demand subscription channel British Pathe TV, plus major licensing deals for the likes of Left Bank's Netflix series The Crown and PBS series American Experience: The Great War.
There was some consolation for ITN Source however, with head of sales Simon Wood, who shared his first Footage Employee of the Year award with his team.
"What a way to break your duck - in the last year of trading," Wood said.
"You are only as good as your team and I have been lucky enough to work with a few in my 17-plus years at ITN. For all the researchers, producers and creatives that have passed through our doors in the last 17 years, it's been a pleasure and an honour, and I wish you all the best."
Elsewhere, Crackit Productions' three-hour Channel 5 doc When Magic Goes Horribly Wrong picked up Best Use of Footage in an Entertainment Production, where it was up against Shiver's ITV doc Les Dawson Forever and BBC Studios' BBC 4 doc How Quizzing Got Cool: Brains of Britain.
Among the gems unearthed by producer/director Simon Withington and researchers Jo Stones and Daniel Kilro was a 1980s clip of OJ Simpson explaining his disappearing act – which found its echo in the winner of Best Use of Sports Footage: ESPN Films' and Laylow Films' Oscar-winning five-hour doc OJ: Made in America.
Nina Krstic was named Footage Researcher of the Year for her work on the OJ Simpson doc, which recently played out in five parts on BBC4.
Other notable winners included the BBC Natural History Unit's Zoo Quest in Colour, named Best Use of Footage About the Natural World, and Ron Howard's cinema doc The Beatles: Eight Days A Week – the Touring Years, which won two awards.
Winners in full:
Footage Library of the Year
British Pathe
Employee of the Year
Simon Wood and team, ITN Source
Best Archive Restoration/Preservation Project
1912-1992: 80 Years of Olympic Films Restored (Warner Bros MPI & Audio Mechanics for International Olympic Committee)
Best Restoration/Preservation Title
Napoleon 1927 (BFI National Archive/Photoplay Productions/Dragon Digital Restoration)
Best use of Footage in a History Production
Hitler's Games - Berlin 1936 (Roche Productions)
Best use of Footage in an Arts Production
Eat That Question - Frank Zappa In His Own Words (Les Films Du Poisson, UFA Fiction, ARTE France, SWR / Sony Pictures Classics)
Best use of Footage in an Entertainment Production
When Magic Goes Horribly Wrong (Crackit Productions)
Best use of Footage in a Music Production
The Beatles: Eight Days a Week – the Touring Years (White Horse Pictures/Imagine Entertainment)
Best use of Footage in a Factual Production
The War Show (Fridthjof Film)
Best Use of Sports Footage Winner
O.J: Made In America (ESPN Films/Laylow Films)
Best Use of Footage on Other Platforms
Terence Donovan: Speed of Light Exhibition (Dog & Duck Films)
Best Use of Footage in a History Feature
Letters from Baghdad (Letters From Baghdad Ltd / Between the Rivers Productions)
Best Use of Footage about the Natural World
Zoo Quest in Colour (BBC Natural History Unit)
Best Use of Footage in a Cinema Release
The Beatles: Eight Days a Week – the Touring Years (White Horse Pictures/Imagine Entertainment)
Jane Mercer Footage Researcher of the Year Award
Nina Krstic (OJ: Made in America)
Lifetime Achievement Award
Serge Viallet