Broadcast is hosting its annual Broadcast Commissioning Forum on November 3 to inform producers of all sizes and all genres about the future commissioning landscape. The industry's biggest names will speak at the forum to share their vision and insights.
Event producer Donna Taberer reveals more about what attendees can expect.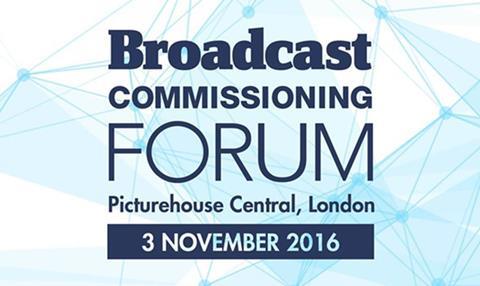 Who should attend the Broadcast Commissioning Forum and why?
TV producers looking to hone their development slate and who want to better understand what commissioners are looking for - plus those who want to join the debate about what is next for their genre.
Commissioners and producers will share their insights into how ideas make it from paper to screen, and why other ideas make simply never make it out of the room.
We have more than 50 visionaries on panels and a further 40 plus commissioners across all genres waiting to meet you 121 to talk through your idea. The Forum is a must for anyone who wants to get the inside track on what commissioners are looking for across different genres, and what kind of ideas they're looking to greenlight.
We have the best creatives and decision makers under one roof discussing what they predict will be the future trends and the big hits on their channels.
Who is the Forum pitched at?
There will be something for everyone who is involved in creating and producing content;
ITV's new drama chief on a platform for the first time since taking up her role
Sky supremos share their scripted secrets
Charlotte Moore's BBC and her vision and ambitions
Channel 4's drive into ground-breaking drama and comedy
the inside track on what's exciting documentary commissioners
the future for ITV entertainment
two of the very best format brains dissecting the future of factual entertainment,
how drama producers and writers make a winning combination
international trend-setting – the producers who are big abroad
how to make 'em laugh – the funny men and women of TV and their shopping list
This really is a chance to hear from the greats and those with the power and the money. Television is changing at a never-ending pace and it can be difficult to keep on top of who wants what, what's in vogue and what's had its day.
This is the chance to understand the current landscape and what the key players and the industry leaders predict will be wowing audiences in the coming years.
What practical information will I take away?
We have some of the very best commissioners and producers sharing their top tips, insights and predictions. There will be panels, case studies and candid "in conversations". It will be a practical and inspiring day, demystifying the commissioning side of television and helping the best creatives to develop the best ideas with discussion of particular schedule and channel opportunities.
Haven't we heard it all before?
Commissioners will share what's working on their channels and why. And crucially what's not working. There will be announcements about new shows and series and specific briefs on what each genre is hunting for.
Commissioners want to have a genuine and honest conversation and help to unlock the best ideas.
They also want to hear from you. So book up your 121 meetings with commissioners now.
Polly Hill
Anne Mensah
Ben Frow
Richard Watsham
Robin Gurney
Zai Bennett
Sue Murphy
Kelly Webb Lamb
Phil Clarke
Charlotte Moore
Siobhan Greene
Peter Davey
Amy Flanagan
Helen Warner
David Sayer
Peter Bowker
Tony Wood
Melanie Leach
Tom Brisley
Tim Hinks
Greg Davies