We had to go back to the drawing board when our show began to lose some of its magic, but after five years of nurturing, our pre-school series is finally ready to fly the nest, says Chris Dicker
Production company Jam Media
Length 52 x 11 minutes
TX Monday 2 July, Nick Jr
Show creators Chris Dicker; Conor Finnegan
Executive producers John Rice; Alan Shannon
Series producer Mark Cumberton
Production managers Caoimhe Cassidy; Paddy Kelly
Series director Conor Finnegan
Animation directors Niall Mooney; Rafa Diaz Canales
Producer Richard Gordon
Supervising script producer Lena Byrne
Head writers Amy Stephenson; Shane Langan
Editors John Wilson; Tiago Gil Batista
Production design Jim Taylor
DoP Ben Jones
Lead puppeteer Tim Cherry-Jones
Post house EGG Post Production
Way back at the start of 2013, I was developing an idea about an unconventional, enthusiastic female lead, with an infectious personality. At the time, it felt like there were a lot of pink princess shows or shows depicting girls to be tomboys. I wanted neither.
From her quirky dress sense to her hobbies, my character Becca embodies the spirit of a bird who chirps to her own tune – a lot like our production team. Becca was born as a celebration of being different, not only tonally but also visually.
We were inspired by Conor Finnegan's short film Fear Of Flying, which uses a combination of live-action puppets mixed with 2D and 3D animation. After seeing the film at the Galway Film Fleadh, everyone at Jam fell in love with the tactile look and feel of the world he had created.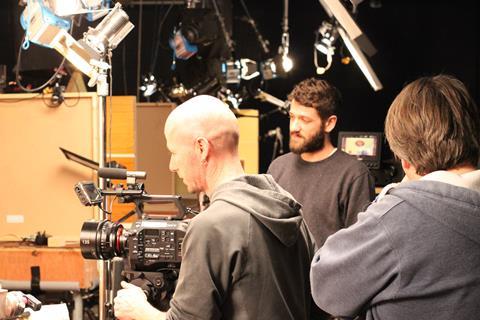 It wasn't all plain sailing and at times we felt we had bitten off more than we could chew, just like Becca does in every episode. After hiring a writer who made some tweaks, we quickly realised the show had lost some of its magic.
This was confirmed when, on our return from pitching at Cartoon Forum in late 2013, we received feedback from the broadcast community that it was playing a little too young for the intended audience.
Taking this on board, we went back to the beginning and to our original idea of that adventure-loving little bird with a can-do attitude who loved to fly outside her comfort zone.
We pitched this to Nina Hahn, senior vice-president of international production and development at Nickelodeon, who was a big champion of the show from the off.
Soon after, Nick Jr commissioned the series on a global deal and assigned us an executive, Lynsey O'Callaghan, and her team, Anna Silver and Jessica Kennedy, who had as much passion for Becca's Bunch as we did. Now it was time to write 52 scripts that were both funny and awesome.
Chris Dicker - My tricks of the trade
Establish a comprehensive writer's bible from the offset and update it as you progress.
Know your characters inside out.
Don't be afraid to fish in the waters outside kids' TV – our head writers and song composer, Richie Egan, were both new to the genre, which brought a fresh dynamic.
Be open to tweaking your production at any stage – everyone's opinion counts.
Take constructive feedback on the chin and find a happy medium that works for everyone.
Becca's name and the characters in her 'Bunch' were changed, but the spirit of the show wasn't – Becca's Bunch is a sitcom for pre-schoolers and every story stems from Becca's catchphrase: "Adventure's calling!"
After working with a diverse range of head writers, Shane Langan and Amy Stephenson came on board to complete the series. They came from a stand-up comedy and sitcom background, but this was their fi rst pre-school series.
We had an in-house story room in Jam, which really helped story creation, and we finished the series feeling we had only scratched the surface of Wagtail Woods and Becca's Bunch has more stories to tell.
COMBINING PUPPETS AND CG
Conor Finnegan, co-creator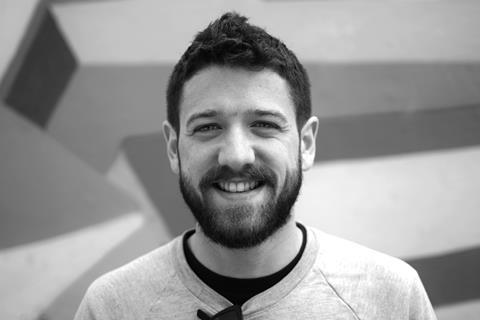 After years of development and a long scripting process, we were finally ready to begin casting voices and shooting the 52 x 11-minute episodes at animation studio Factory in Manchester.
We knew we wanted to work with real kids, rather than adults doing kid voices, and after hundreds of auditions, we found our perfect cast. With each one of the kids we selected for Becca's Bunch, we knew pretty much immediately when they entered the room that they were the one.
Noah-Fe Williams, who plays Becca, came in wearing oversized sunglasses, a denim jacket, transparent sandals and multi coloured stripy socks. She was Becca, and with each take she brought more and more to the character that had lived in our heads for so long.
The shoot was a daunting prospect. The longest I'd spent in a studio shooting was five days and with Becca's Bunch, I was looking at six months, directing a team of more than 30 artists, model makers, set builders, puppeteers and camera crew.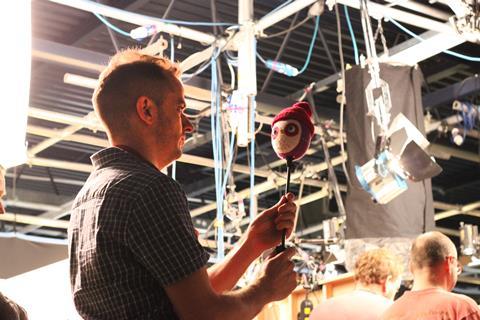 This slowly turned into a 10-month shoot, as everything had to be handmade – from the 4,000-plus individual props, to the hand-knitted puppets, and the hand-sculpted and painted sets.
We painstakingly shot as much as possible – nearly everything, in fact – in camera, often in multiple passes to avoid puppet rigs crossing over characters and other problems. It was definitely worth it – all that work is clearly visible in each episode, and everything feels like you could reach out and touch it (you really can if you visit our storage area).
It was a gruelling shoot, but thankfully, the crew really got into the adventurous spirit of the show, making it look and feel the best it could be. Once shot, the footage was edited in-house and then sent to Jam in Belfast to add its magic touch.
With the raw footage shot and assembled, the character animation, VFX and fi nal compositing was added. A low-polygon CG model was created of each puppet and lined up in 3D space to accurately match the live-action footage.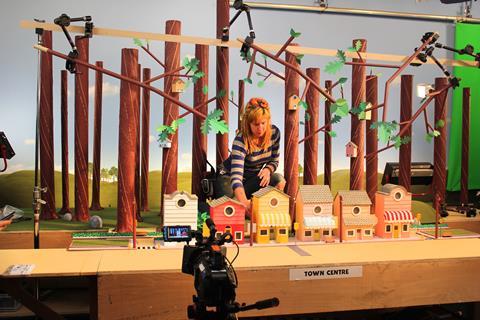 The camera information was also used to recreate the physical set in digital space, ensuring the perspective of the animation, lighting setups, focal distance and camera movements were precise.
PF Track software was then used to meticulously match-move each character action to digitally recreate the puppet's movements.
This process must be pixel perfect – especially when adding the eyes and mouth – as any inaccuracies or slip in the tracking will be very noticeable at final composite stage.
BRINGING CHARACTERS TO LIFE
A Maya file was then created, including all of the necessary assets, live-action footage, voiceover tracks and any digital props required.
The animation rigs already follow the movements of the puppets exactly and the animator's role is to bring these puppets to life by adding lip sync, facial expressions, gesticulations, walk cycles, subtle acting and more.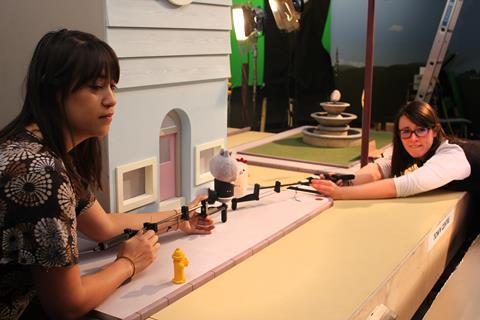 During the animation stage, another team of rotoscope artists meticulously cleaned up the live-action footage by removing any traces of the puppet rigs, puppeteers' hands in frame, edge of sets and false floors. There were a lot.
In Maya, we also recreated the lighting environment on set. The light intensity, colour and shadow density were all fine-tuned to match the live-action footage as closely as possible. All the fur textures and props were tested at this stage to make sure they were perfect before rendering.
Only the character's wings, arms, legs, eyes, beaks/mouths and ground shadows were rendered for the final compositing as these are the elements added to the real puppet bodies.
The compositing department's artists then received all the assets that had been created up to this point: CGI characters and prop renders, mattes from rotoscoping and any FX needed for the scene. It was their role to combine everything seamlessly into the final shot that will appear in the episodes.