The Youth Group and CopC Productions have announced the event, which takes place this evening (Wednesday, 31 March) at 6.30-7.30pm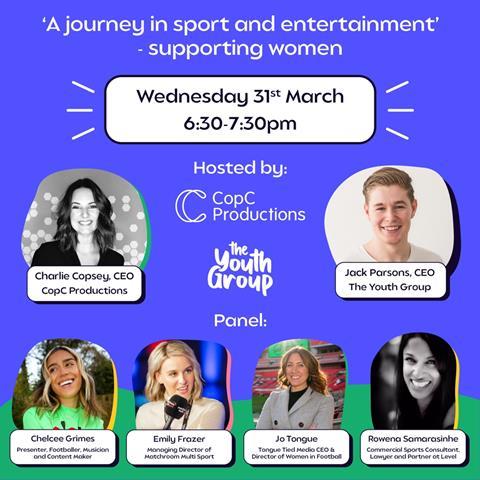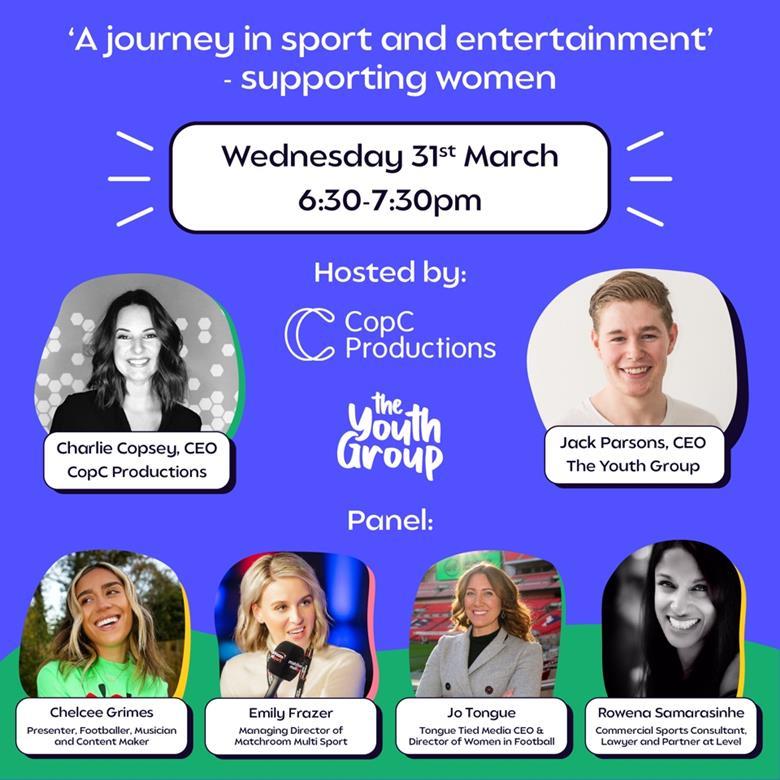 The Youth Group and CopC Productions have announced an event aiming to support women who want to enter the sport and entertainment industry.
Taking place tonight (Wednesday, 31 March from 6.30-7.30pm), the event is free to attend for all aged 18-30.
A journey in Sport & Entertainment - supporting women will involve Youth Group CEO Jack Parsons and CopC CEO Charlie Copsey talking to a panel of women from the industry. It includes presenter, footballer, musician and content maker Chelcee Grimes; managing director of Matchroom Multi Sport Emily Frazer; commercial sports consultant, lawyer and partner at Level, Rowena Samarasinhe; CEO of Tongue Tied Media and Director of Women in Football, Jo Tongue.
The group will provide practical advice and stories from their careers, while also looking to inspire. A further ten women will host mini break out rooms for smaller groups of the audience, providing a taster mentor session and answering questions directly.
In addition, every attendee will be provided with a one-to-one mentoring session after the event, provided by female mentors from a diverse range of jobs, ages and experiences. These include Jenni Gow, sports broadcaster; Louisa Fyans, director of comms, The FA; Lisa Parfitt, co-founder, The Space Between; Martha Kelner, sports correspondent, Sky News; Layla Anna-Lee, sports presenter; Anna Chanduvi, head of sports media, Facebook; Preeti Shetty, CEO, Upshot System; Aimee Fuller, former GB snowboarder; Tammi Parlour, CEO of Women's Sport Trust; and more.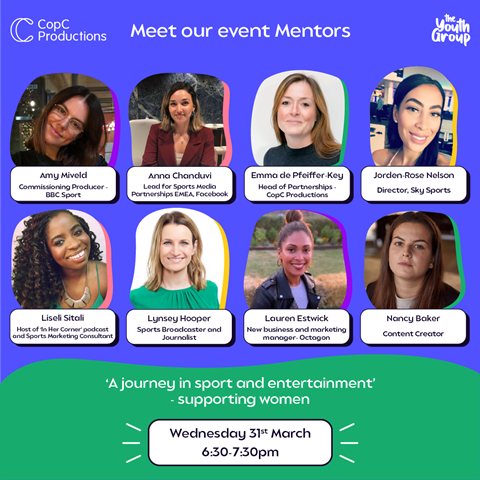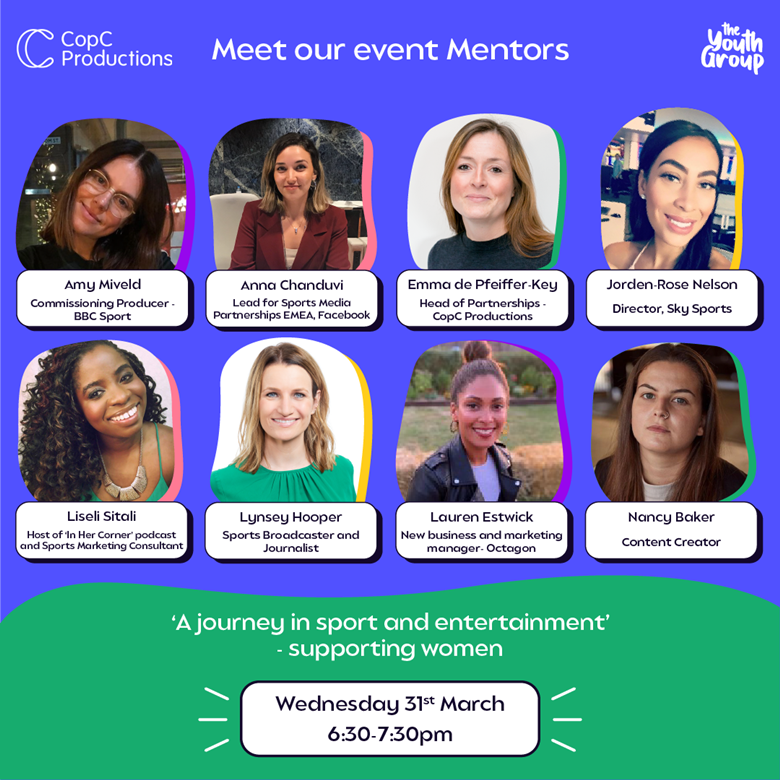 This is the second in the Live Sessions series from The Youth Group, which aims to provide access to business for a diverse audience of young people from BAME and low socioeconomic backgrounds, and allow them to proactively bring diversity and inclusion into their organisations.
Parsons said: "Young people are looking for answers, they want to know what a job involves and the meaningful difference they'll be making. Our 'Opportunity for all' Youth Promise means every young person who attends the Live Session will be offered a 1 to 1 mentoring session through our MentorMe programme. What's more, we plant a tree for every mentoring session completed. When you support MentorMe, you're helping us make a huge positive difference for the environment."
Copsey added: "As a female producer and CEO in a male dominated industry, I'm excited to be working with the Youth Group to support women and provide tangible opportunities for them to get a foot in the door. These young women will one day be our future leaders and if we want to level the playing field in this industry, we must invest in new talent coming through.
"Along with our incredible panel we want to showcase the variety of jobs in this sector and share real life stories of how these women arrived to where they are today. The support and interest we have had from the female community for the mentor scheme has been incredible. It just goes to show how many women want to support and lift each other up which right now, is needed more than ever."