BBC Sport director Barbara Slater also wants the legislation to cover on-demand and IPTV offerings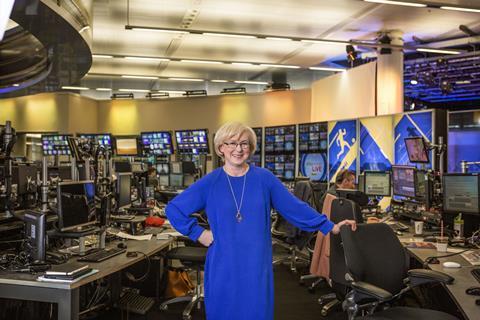 BBC Sport director Barbara Slater has called for more women's sport to be added to the listed events.
Listed events are protected from being shown exclusively on pay-TV, and its group A events must be shown live on a free-to-air channel. Group A currently includes the likes of the men's World Cup and men's Euros, but doesn't have their women's equivalents.
The women's competitions aren't even included in Group B, which ensures that extended highlights are free-to-air and includes the likes of the England men's cricket matches and Six Nations matches involving home nations.
Group A listed events (full live coverage protected)
The Olympic Games
The FIFA World Cup Finals Tournament
The European Football Championship Finals Tournament
The FA Cup Final
The Scottish FA Cup Final (in Scotland)
The Grand National
The Derby
The Wimbledon Tennis Finals
The Rugby League Challenge Cup Final
The Rugby World Cup Final
Speaking at the Voice of the Listener and Viewer Autumn Conference on 24 November, Slater called for this to change, along with pushing for on-demand and IPTV services to be included in the listed events legislation.
Group B listed events (extended highlights coverage protected)
Cricket Test matches played in England
Non-Finals play in the Wimbledon Tournament
All other matches in the Rugby World Cup Finals
Six Nations Rugby matches involving home countries
The Commonwealth Games
The World Athletics Championship
The Cricket World Cup - the final, semi-finals and matches involving home nations' teams
The Ryder Cup
The Open Golf Championship
Slater said: "I believe there must be a better balance with women's events. There are no exclusively women's sport events. They are traditionally free-to-air, but it is important to protect that."
Former Labour MP for Selby and, more recently, Keighley, John Grogan, who has campaigned for the listed events to be expanded and was speaking on the same panel as Slater and Ampere Analysis' Jack Genovese, added: "It is time things like the women's World Cup are added. The danger is that it becomes more and more popular, and in a few years it disappears onto pay-TV."
Genovese also explained: "The UK listed events regime has remained relatively untouched for almost a quarter of a century – and for most of that time, it has served its purpose well. But as the media industry evolves at an increasingly rapid rate, the regulatory framework put in place to secure that the 'crown jewels' of UK sports are made available to as wide an audience as possible on a free-to-air basis will be put to test.
"Our latest survey of sports fans shows that 36% of sport fans prefer watching sports on streaming services; and a growing proportion of sport fans watch sports through both broadcast and OTT. The listed events regime must take into consideration these behavioural changes in order to stay relevant."