Seven weekends of the men's and women's competitions will air on the broadcaster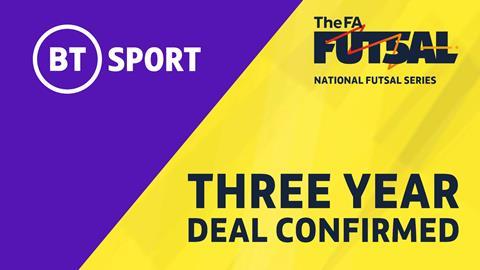 BT Sport has signed a deal to broadcast the National Futsal Series for the next three seasons.
Seven weekends of the Men's Tier One and Women's Super Series will air on BT Sport in the 2021/22 season. This includes all playoffs and finals and over a typical weekend will see four matches shown live from each of the men's and women's competitions.
Overall, 110 hours of futsal will be played on BT Sport across the campaign, split equally between the women's and men's games. The first weekend to be shown will be on 9-10 October, which sees a repeat of last season's Summer Showdown final between London Helvecia and Bloomsbury Futsal. Last time round, Helvecia won and qualified for the UEFA Futsal Champions League.
All games not on BT Sport will be streamed through the National Futsal Series YouTube channel.
The National Futsal Series consists of 43 teams and was formed in 2019. A five-a-side fast-paced form of the game with small-sided teams, it places emphasis on technical skill in restricted spaces and has helped to develop some of the biggest names in football - such as Cristiano Ronaldo and Lionel Messi.
Head of BT Sport, Simon Green, said: "Today's news deepens BT Sport's support for all levels and versions of football, with our coverage spanning grassroots, semi-professional, disability and elite forms of the game. We are looking forward to helping the top-flight futsal league in England reach new heights and support the long-term ambitions to drive more participation in the sport."
Paul Szumilewicz, managing director of the National Futsal Series, added: "This is the biggest broadcast commitment ever in the history of English futsal league competitions and we are delighted that BT Sport has recognised the potential of futsal. The increased visibility the deal will bring to the NFS will help the league and the sport of futsal connect to new and wider audiences. We're looking forward to working with BT Sport to take futsal to a whole new level never seen before in this country."