Phil Liggett had already been announced as the lead anchor.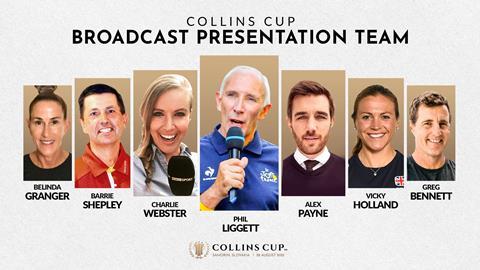 The Professional Triathletes Organisation has revealed the presentation team for the Collins Cup.
Having earlier revealed that the 'voice of cycling' Phil Liggett will be lead anchor, with Martin Turner as executive producer, the organiser has added presenters Alex Payne and Charlie Webster with Belinda Granger, Barrie Shepley, Greg Bennett and Vicky Holland providing on-the-ground expert insight.
Payne has spent the last 17 years with Sky Sports presenting tennis, rugby union, and poker, and Webster has worked across various TV networks, events, and brands on Wimbledon, the London Olympic and Paralympic Games, World Title Boxing, the Champions League and the Six Nations.
On insight, Granger has 30 successful years' experience as a professional triathlete, and was a part of the PTO 2020 Championship broadcast team, Shepley has attended every Olympic Games and over forty World Championships in nearly 40 years broadcasting triathlon, retired professional Olympic triathlete Bennett represented Australia at eighteen World Championships, two Olympic Games and one Commonwealth Games, and Holland raced short course triathlon for over fifteen years, winning three Commonwealth medals, a European Silver medal, a Bronze medal from the Rio 2016 Olympic Games and the World Triathlon World Championship in 2018.
Turner said: "This is a world class commentary team with exceptional presenters. I am looking forward to working with this extraordinary team as we make an effort to showcase the sport to not only those who love triathlon, cycling and endurance sports, but also to those general sports fans who crave the rivalries that will be put on display when the best athletes in the world do battle for the Collins Cup."
Sam Renouf, chief executive officer of the PTO, added: "We are thrilled to have such an experienced commentary team for The Collins Cup. Alex and Charlie are both exceptional presenters and Belinda, Greg, Barrie and Vicky will bring a combination of more than 100 years of seasoned experience to the broadcast team and provide sports fans with an unparalleled analysis of the excitement live as it unfolds."