Phil Liggett, known for his work in cycling, will lead the triathlon presentation.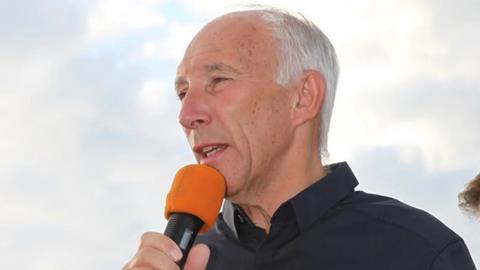 The Professional Triathletes Organisation (PTO) has revealed that Phil Liggett will be the anchor for the Collins Cup.
Liggett will lead a team of seven presenters and work alongside director, Martin Turner, who will head the broadcast team as executive producer.
Liggett rose to fame in cycling, and is known as the 'voice of cycling' after work at the Daily Telegraph, Guardian and Observer as well as authoring several cycling books including The Tour de France 1988 & 1989, The Complete Book of Performance Cycling and The Fastest Man on Two Wheels – an insight into Chris Boardman.
He was awarded an MBE in the Queen's Honours list in June 2005, given a Lifetime Achievement award by the US Hall of Fame in October 2007, and inducted into the British Cycling Hall of Fame in Feb 2010.
In television, he has worked as a commentator for over forty years, covering seven Commonwealth Games plus ten summer and five winter Olympic Games for global broadcast channels like the BBC, C7/C9 (Australia) and CBS & NBC (USA). Since 1973, he has worked on 48 of the Tour de France races and his programmes on the Paris-Roubaix Classic that he scripted and hosted for CBS won EMMYS in the USA and in 2003 he was nominated for an EMMY as Outstanding Sports Personality of 2002 by the TV Academy in the USA.
As well as cycling, Liggett has worked in ski jumping, alpine skiing, biathlon, speed skating and triathlon, and a film of his life, Phil Liggett The Voice Of Cycling, was recently released in Australia.
Liggett said: "The Collins Cup is poised to be the most exciting and innovative format for endurance sports that I have witnesses in my long career. I am looking forward to being part of a talented team of commentators as we make an effort to give a great platform that will engage not only those who love triathlon, cycling and endurance sports, but also to those general sports fans who crave the rivalries that will be put on display when the best athletes in the world enter the arena to do battle for the Collins Cup."
Sam Renouf, CEO of the PTO, added: "We are thrilled to have Phil join the team as anchor for The Collins Cup, bringing his world class experience and broadcast pedigree to the sport of Triathlon. Having anchored award-winning broadcasts in globally recognised sports like cycling, he has a proven ability to drive innovative broadcast productions and keen insight in the performance of athletes at the highest levels."
The Collins Cup is set to debut on 28th August this year, at the x-bionic® sphere in Šamorín, near Bratislava, Slovakia. It is a new race format modelled after the Ryder Cup, which will see teams of International, European and USA athletes pitted against one another for the top prize.