The BBC has agreed to broadcast Bellator MMA exclusively in the UK on BBC iPlayer in 2021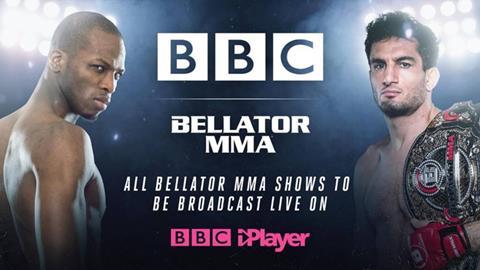 The Digital, Culture, Media, and Sport Select Committee (DCMS) has questioned the BBC's decision to broadcast MMA competitions in the UK.
Citing fears over the effect of concussions, DCMS chair Julian Knight MP has written to BBC director-general Tim Davie to invite him to the committee before 31 March.
Knight wrote: "On 9 March Peter McCabe, chief executive of the Headway charity, told the DCMS Committee that he would immediately ban both boxing and cage fighting as the primary objective of each sport is to injure or knock out the opposing fighter. He said that while other sports might risk brain injury as a consequence of participation, it was almost a primary objective in both boxing and mixed martial arts.
"Given the current focus there has been in the media on concussion in sport, including several thoughtful pieces from the BBC (for example, the interview with the daughter of Scotland footballer Gordon McQueen) it seems strange that the BBC should be raising the prominence of mixed martial arts in this way. Indeed, by helping fund and broadcast live events, it could be said that the BBC was now a leading cheerleader for the sport in the UK."
In response, the BBC confirmed receipt of the letter and its intention to reply within the timescale given. A spokesperson stated: "MMA is a recognised sport covered by a number of broadcasters and like any sport, it is for the ruling body to ensure the safety of the sport. Our live MMA coverage carries clear warnings and is only available on BBC iPlayer. BBC iPlayer gives parents the option to set a Parental Lock, which restricts access to programmes which display a guidance warning to ensure younger audiences can't access inappropriate content."
The BBC recently agreed exclusive rights to MMA competition Bellator in the UK, which is broadcast on iPlayer. BBC Sport head of radio and digital, Ben Gallop, recently spoke to Broadcast Sport to explain the thinking behind the move.
Gallop told Broadcast Sport: "MMA often comes up as one of the most popular sports with young audiences, which is a group that doesn't usually reach the BBC. This is part of a wider push to make iPlayer a go to for those younger audiences, and make it a regular destination rather than somewhere for one-offs."
Events are planned to be live streamed on iPlayer, with the coverage then available on-demand on the platform.
Comparably, France banned MMA in 2016, before going on to recognise it as a sport in January 2020 and allowing broadcasts from November 2020.