The UX management tool aims to expand into sports OTT providers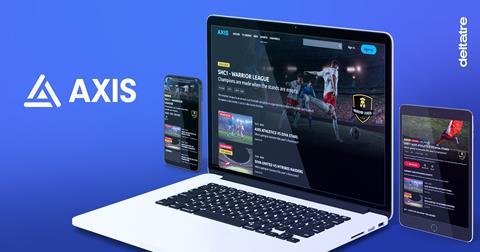 Deltatre has added sports-related features and functionality to its Axis UX management tool.
It aims to support sports broadcasters, leagues, teams, and federations, having already been used by OTT providers across the industry - such as BritBox, Rogers Sports & Media and DR.
The functions include the ability to adapt services so that sports content such as competitions, events, teams, and athletes can be promoted out-of-the-box, with dedicated templates enabling discoverability of live and catch-up sport video content. In addition, a new personalization feature allows users to follow their favorite team or player.
This builds on the core functionality of Axis, which includes a drag-and-drop management system, 'smart' content lists that combine manually curated and rules-based content, advanced segmentation tags, page and row templates, as well as monetization options.
Gilles Mas, president of video experiences at Deltatre, said: "As a long-standing streaming technology provider to leading OTT platforms across sport and entertainment, Deltatre is uniquely positioned to understand the complexities and differences in the way fans and users engage with and consume different content.
"We know how important it is to combine a greater user experience with clear, actionable audience data. Truly understanding your customers, and giving an editorial team the tools to act on that knowledge, is key to maximizing engagement and reducing costs and churn."
Axis sits alongside Deltatre's other OTT offerings, such as OTT player Diva, sports publishing platform Forge, and SaaS platform for real-time, data-driven UX targeting, mtribes.
OTT player DIVA, the world's most powerful sports publishing platform FORGE, and mtribes, a SaaS platform for real-time, data-driven UX targeting