Faded Neon Films production focuses on powerchair football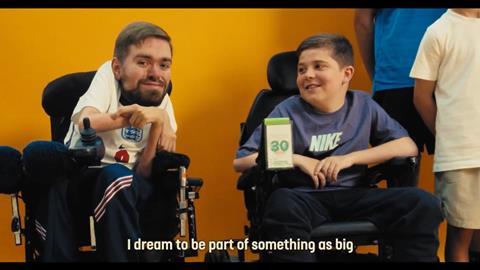 England Football has released the second film in its This Is Football series.
Produced in collaboration with Faded Neon Films, the episode stars England Powerchair star Marcus Harrison and a young mentee of his called Jacob, with the pair developing a close on-field bond at Greenbank FC where Jacob is a player and Marcus is a coach. it is available to watch through England Football's social channels and website.
The film sees the pair playing together as Jacob discusses his aspirations of playing in a Powerchair Final for England and scoring the winning goal, a feeling Marcus understands well having scored twice in the 2019 European Powerchair Football Association (EPFA) Final before scoring the winning penalty.
Football is for everyone.

Ahead of today's #FADisabilityCup Finals, @EnglandFootball presents This Is Football with Marcus and Jacob.pic.twitter.com/ApUnGZNNPA

— England (@England) June 12, 2022
Faded Neon Films focuses on challenging stigmas and promoting outcasts through film, and was founded by writer/director Charli Whatley and producer and animator Toby Anthonisz. Whatley has a chronic neurological illness and she and Anthonisz are a disabled and carer team and work with an interdependent model.
This Is Football launched last month with an episode featuring Raheem Sterling speaking about his route through grass roots football.