The content series from the newly-launched organisation will chronicle England players' journeys from the grassroots game to England's elite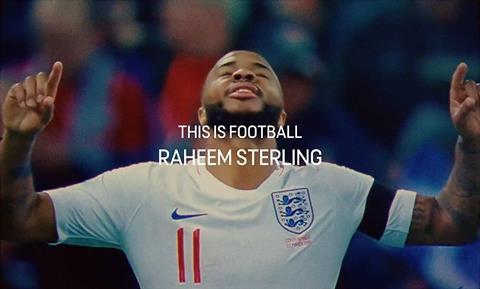 The first episode of a new content series called This is Football from England Football features Raheem Sterling talking about growing up in the shadow of Wembley Stadium and paying tribute to youth worker and football coach, Clive Ellington.
The just-launched organisation England Football has been created by the FA to represent, unite and promote football participation in England.
The This is Football series will chronicle England players' journeys from the grassroots game to England's elite. Further episodes will feature John Stones and Reece and Lauren James.
In episode one, Sterling talks about coach Ellington's influence: "My dad died early. He [Ellington] was an actual good role model. He was within the community; he was the person that made me realise there is more to life than just being a naughty kid and having something that you love and put maximum effort in to.
"I had never kicked a ball anywhere before properly, so to go there I remember I literally fell in love with football there, everything about it. It was something different man, you know, outside of my comfort zone."
Sterling was interviewed for the film by his former England Under-21 teammate, Marvin Sordell, who, since retiring from the game in 2018 co-founded Oneighty Productions, which is producing the series.
Sordell said: "Having played with Raheem, I know the type of man he is. Being able to portray him in this positive and relatable way means a lot to me, but I'm sure more so to children across the country that dream of following in his footsteps. Being able to truly and authentically connect these superstars with their communities via their journeys, was our exact intention when we set out to create these films."
Full length episodes of the new series will feature exclusively on EnglandFootball.com.