Live coverage of The Open goes to GOLFTV and Sky Sports in different territories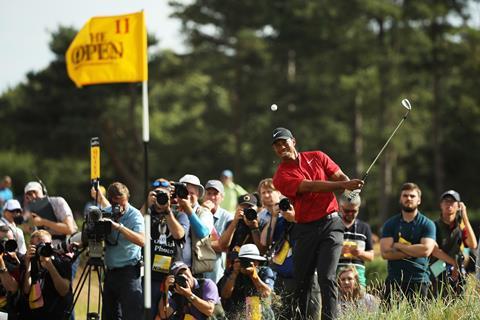 Discovery's golf OTT platform GOLFTV has picked up the rights to live coverage of The Open across Southeast Asia, Hong Kong and Taiwan following a new multi-year agreement.
The deal includes the 148th Open at Royal Portrush, Northern Ireland, which began today.
Alex Kaplan, president and general manager, Discovery Golf and GOLFTV, said: "It is a huge privilege for Discovery to welcome the world's most historic golf championship to GOLFTV. The Open is loved by golf fans everywhere and we are excited by the opportunity to present live coverage across Southeast Asia, Hong Kong and Taiwan, as well as compelling on-demand content available in many more international GOLFTV markets.
"Together with the PGA TOUR and our partners, there's much more to come as we continue to enhance our GOLFTV and Golf Digest products with the goal of powering people's passion for golf around the world," he adds.
Francesco Molinari, 2018 Champion Golfer of the Year and exclusive GOLFTV Global Content Partner, said: "I can't wait to share more of my insights, reactions and opinions at Royal Portrush and as the season continues."
Access to its live coverage and on-demand content is available on mobile and online via GOLF.TV and the GOLFTV app.
Meanwhile, in the UK, Sky Sports has extended its agreement with the R&A (The Royal & Ancient Golf Club of St Andrews) to provide live coverage of The Open for a further three years, through to 2024.
It's one of 100+ golf tournaments Sky Sports is screening this year, including all four men's Majors, all five women's Majors and the Solheim Cup.
Sky Sports managing director Rob Webster said: "The Open is an iconic moment of summer sporting brilliance and over the past three years Sky Sports has elevated the coverage to new heights. We're delighted to continue our partnership with The R&A until 2024. We respect the history and traditions of The Open but know that together we can keep finding new and innovative ways to help tell its stories."