The exclusive digital content deal is the first of its kind for the outdoor advertising board company.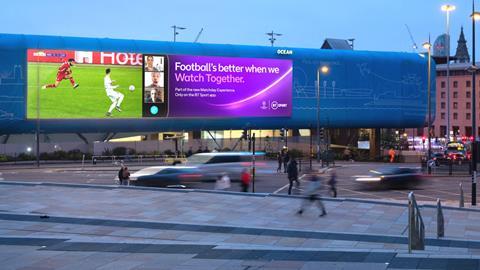 Outdoor advertising board company Ocean Outdoor has signed a deal with BT Sport to show content from its Champions League broadcasts.
The agreement means that Ocean Outdoor will be able to broadcast next-day match clips from the UEFA Champions League last-16 onwards on its advertising boards in cities across the UK - including London, Birmingham, Manchester, Liverpool, Newcastle, Edinburgh and Glasgow.
The first 60-second clips will be shown on Wednesday 17 February, and feature Liverpool's 2-0 victory over RB Leipzig. The other British teams currently in the European competition are Manchester City and Chelsea.
The promotion will run until 31 May, and each day-long spotlight will sit alongside a campaign to promote BT Sport's Watch Together feature.
It is Ocean Outdoor's first deal with BT Sport, and the first time that the company will air European club football on its boards.
BT Sport head of marketing, Ed Cracknell, said: "It has been fantastic to work with Ocean to create this innovative way to showcase some of the tremendous content and the innovative features on the BT Sport App; allowing fans to come together and get closer to the sport they love."
Kevin Henry, head of content and sponsorship at Ocean Outdoor, added: "Primetime TV sport and premium DOOH are natural allies. The extension of BT Sport's UEFA coverage onto our screens launches a superb summer of sport for Ocean's large format portfolio, bringing the best championships to even wider audiences over and above the TV and mobile screen."
This summer there will be further sporting competitions broadcast on Ocean Outdoor's boards, with Euro 2020, Wimbledon, and the Olympics all scheduled to air thanks to partnerships with UEFA, the All England Lawn Tennis Club, and Team GB and Eurosport.