Broadcaster will work with The Hundred; British Grand Prix; The Open; Goodwood Festival of Speed and Super League Magic Weekend to educate viewers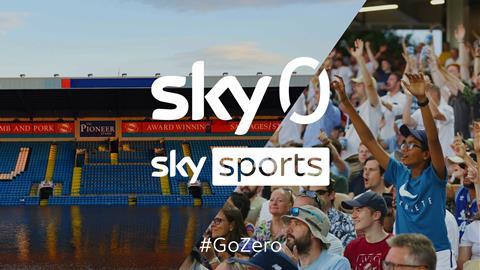 Sky has launched a campaign encouraging sports fans to take action on the climate crisis.
The broadcaster will work with The Hundred; British Grand Prix; The Open; Goodwood Festival of Speed and Super League Magic Weekend to educate viewers on the impact that the crisis is already having on sport.
Fans will then be asked to take action in various ways, including using more public transport, swapping vegan alternatives into their diets, and more. Sky is working with global movement Count Us to choose the actions that will be encouraged, with emissions impact, accessibility and influence on wider systems change taken into account.
This comes after other initiatives from the broadcaster, including producing a Premier League game with net zero emissions last year.
Jonathan Licht, managing director of Sky Sports, said: "Climate change is a pressing issue across the globe. However, it is often easy to assume the impact won't be felt on a personal level. We hope that Sky Sports can use its platform, and work closely with its key partners, to really influence and educate fans on the effects climate change is already having on sport, so they can feel inspired and motivated to take action and look after what they love."
Several of the competitions involved also spoke of how they will take action.
Ken Davy, Super League chairman said: "Super League is delighted to be partnering with Sky Zero on their summer sports campaign. We are committed to supporting Sky's ambition to make a significant impact that will instigate the conversation on how we can all make small lifestyle changes to help save our planet. From a reduction in the use of single-use plastic to making more conscious decisions on what we eat and how we travel.
"We are determined to work with and educate our fans to help them make conscious decisions on how we can all reduce our carbon footprint. We will be asking fans to consider how they will travel to Newcastle for Magic Weekend and what food options they make whilst they are in the city. We appreciate that everyone has a part to play in tackling the climate crisis and we are committed to encouraging more positive changes across the sport. The support of Sky Zero at Magic Weekend is a welcome addition to one of the sport's flagship events."
Ross Brawn, managing director, motorsports at Formula One, added: "Working with our teams and partners we were proud to set our net zero 2030 goal in 2019. We have already made significant progress towards achieving this, including our first carbon neutral broadcast at the British Grand Prix at Silverstone last year, and unveiling our plans for 100% sustainable fuels for all cars in 2026.
"We are delighted to work alongside our long-term partner Sky as they equip sports fans across the country with the information they need to be more sustainable, starting this weekend at Silverstone where we encourage all of our fans to get involved and help make a difference."
Arlette Anderson, director of sustainable golf at The R&A, said: "Sustainability is a vital consideration in the staging of our major championships and this extends to educating fans attending and watching The Open about how they can also play an important role in mitigating the effects of climate change.
"We will be working with our broadcast partner Sky during The 150th Open to highlight the positive steps that people can take in their everyday lives, whether that is using public transport more often, eliminating single-use plastics and being more active, as well as the new and expanded sustainability initiatives we will have in place for the Championship at St Andrews."