The award winners will be revealed tonight, with Bally Sports airing the ceremony across the USA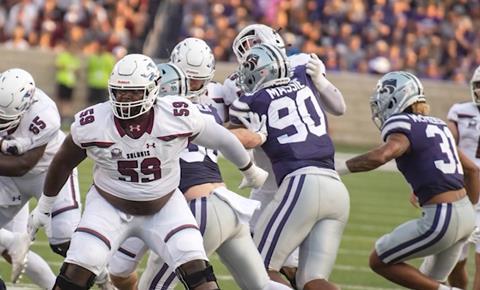 Stats Perform is awarding The FCS (Football Championship Subdivision) National Awards tonight (Friday, 7 January) at the Frisco Embassy Suites & Convention Center in Frisco, Texas.
The awards honor the best in US college football's Division I. Stats Perform is one of the leading sources for FCS news and data, and has presented the awards since 2015.
The awards ceremony will be shown on Bally Sports Regional Networks from Saturday, 8 January. In total, there will be over 250 airings over Bally regional and affiliate networks.
Brian Orefice, Stats Perform's vice president of global operations, said: "Given the unprecedented year FCS student-athletes have been through, it's particularly gratifying to celebrate their resiliency and excellence this week. We're thrilled to be backed by the star power of football Hall of Famers and award namesakes to help continue to shine a bright light on stories of the subdivision, big and small."
Bally Sports Air Dates for The FCS National Awards
Bally Sports Arizona: Saturday, Jan. 8 (5 p.m. MT)
Bally Sports Detroit: Saturday, Jan. 8 (midnight ET)
Bally Sports Florida: Saturday, Jan. 8 (11 p.m. ET)
Bally Sports Midwest (Kansas & Nebraska only): Saturday, Jan. 8 (5:30 p.m. CT)
Bally Sports Midwest (all states in region): Sunday, Jan. 9 (10 a.m. CT)
Bally Sports North: Sunday, Jan. 9 (noon CT)
Bally Sports Ohio: Saturday, Jan. 8 (5 p.m. ET)
Bally Sports South (Georgia, North Carolina & South Carolina): Saturday, Jan. 8 (10 p.m. ET)
Bally Sports South (Alabama, Kentucky, Mississippi, Tennessee): Saturday, Jan. 8 (10 p.m. CT)
Bally Sports Southwest (Dallas area only): Saturday, Jan. 8 (6 p.m. CT)
Bally Sports Southwest (All other areas in region): Saturday, Jan. 8 (8 p.m. CT)
Bally Sports Sun: Saturday, Jan. 8 (11 p.m. ET)
Bally Sports West: Saturday, Jan. 8 (8 p.m. PT)
Bally Sports Wisconsin: Saturday, Jan. 8 (4 p.m. CT)
MASN2: Saturday, Jan. 8 (5 p.m.)
MSG Plus: Saturday, Jan. 8 (5 p.m. ET)
Marquee Sports Network: Monday, Jan. 10 (2 p.m. CT)