RWC 2023 Fantasy Showdown special is hosted by Gethin Jones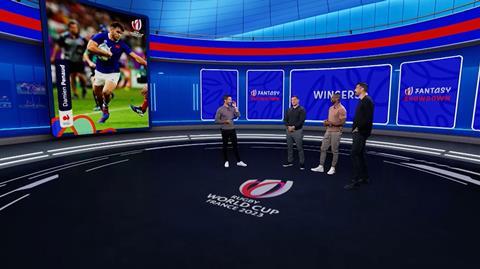 World Rugby has created a one-off programme to launch its Rugby World Cup 2023 fantasy league game.
Created by Genius Sports as part of a wider gamification partnership, the game sees each user given a budget of 100 credits to pick 15 players, with unlimited transfers through the tournament, and three boosters - Triple Captain, Super Kicker, and Defensive King'. It is available in both English and French, and includes a two-step tutorial to walk players through the rules of the game, the points scoring system as well as an introduction to rugby that includes overviews on players' positions.
To launch the game, World Rugby has released a RWC 2023 Fantasy Showdown special hosted by Gethin Jones and featuring rugby legends Ugo Monye, Jim Hamilton and Benjamin Kayser. Available on D2C platform RugbyPass TV, which World Rugby went live with last month, the show gives fans insight into their top player picks and who to watch out for.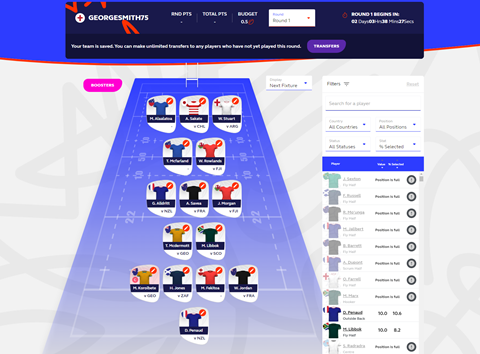 James Rothwell, chief marketing and content officer at World Rugby, said: "We're delighted to be working with Genius Sports to deliver the first official RWC Fantasy game ever created for a Rugby World Cup. Rugby World Cup 2023 Fantasy will allow fans worldwide to showcase their rugby knowledge and passion for the sport while also giving them a new way to engage and interact with the tournament."
Judd Goldstein, head of sports fan engagement, EMEA at Genius Sports, added: "This partnership and the launch of RWC 2023 Fantasy will be central to World Rugby's strategy to use gamification to expand the sport's global audience. We're thrilled World Rugby has recognised Genius as the global leader in custom premium fan engagement products and selected us as their partner to acquire and engage both casual and avid rugby fans on a truly global scale, using the terrific RWC 2023 Fantasy game as a launchpad for this long-term partnership."