The final race of the esports championship will be broadcast live from 8pm on Thursday 28 March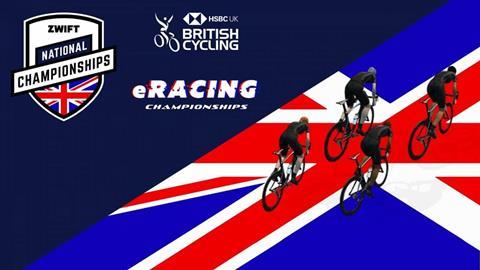 The finals of the British Cycling Zwift eracing Championships will be broadcast live on BT Sport next Thursday (28 March).
The indoor cycling esport sees cyclist on a real bike mounted to a workout station (example pictured below, credit: Wahoo) riding a virtual course in a virtual environment.
The finalists of the Zwift eracing Championships include well-known cyclists such as Olympic gold medallist Dani Rowe, Ian Bibby, Rosamund Bradbury, Jon Mould and Stevie Young, who all placed in the top 10 of their gender categories in an online qualifying event in February.
The winner will become the first UK champion of the British Cycling Zwift eRacing Championships. They will also win a championship jersey and a virtual championship jersey that may be worn in-game for a year, as well as £400 in prize money.
The televising of the eracing competition and its general increase in profile over the last year "demonstrates the expansion of elite level competitive sport into the fast-growing esports scene," say the organisers.
For daily broadcast sports stories, covering sport production, distribution and tech innovation, visit Broadcast Sport and bookmark the Broadcast Sport homepage, http://www.broadcastnow.co.uk/sport
The competition finals consists of an elimination race, a points race and a scratch race for both men and women. The action begins at 1:55pm on Thursday with a live stream on British Cycling's Facebook page and website. Then BT Sport picks up the live coverage, beginning at 8pm, broadcasting all the action from the final race of the tournament.
Fitness tech brand, Wahoo is the official race partner for the final and will provide all finalists with Kickr smart trainers and Kickr Headwind smart fans to keep riders cool throughout the evening's racing.
British Cycling commercial director Jonathan Rigby said: "We had nearly 400 people on the virtual start line and thousands more tuning into our online qualifying event back in February. Having such a well-regarded broadcaster like BT Sport on board for the championships is testament to the broad appeal it has carried since announcing this new event late last year both within the cycling industry, but also amongst new audiences and new generations. The huge boom in eSports means that the sky is the limit for indoor cycling."