Audiovisual and live-event specialists will join the broadcast crowd at this month's trade show, featuring 260 exhibitors, 120 hours of seminars and plenty of networking opportunities.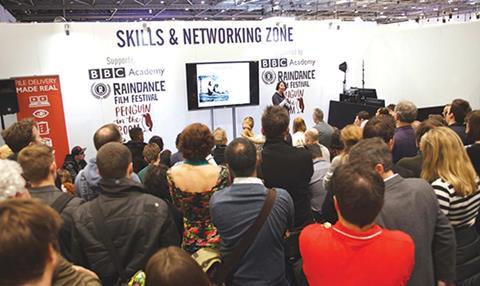 Covering everything from camera accessories to 360-degree workflow solutions, the three-day Broadcast Video Expo (BVE) has expanded to embrace audiovisual and live entertainment. In recognition of what show organiser i2i Events identifies as "the increasing convergence between the broadcast and AV markets", a fresh set of presentations will feature information on professional audio, lighting and design for live events such as Eurovision and the National Theatre Live in UHD.
Post-production

With an expanded presence at BVE, Forscene wants to highlight the benefits of web-based editing (above). "Forscene was originally developed as a logging and sync-pull solution, but the software is now capable of so much more," says business development director Jason Cowan.
"We want to help clients realise the potential this software has to fundamentally change the way they approach post." The ability to import, display and edit track names directly on the timeline, and export them as part of an AAF, is a new feature.
High Dynamic Range will be featured in an Avid workflow with Baselight colour correction for accurate brightness and contrast on the Root6 stand. ContentAgent v3.5, Root6's file-based workflow management and automation platform, will also be launched. A number of Avid interoperability tools have been added, including AAF merger and sequence creation, and an Edit While Transcode function.
Asset management and storage specialist EditShare is featuring AirFlow, its private cloud platform, which is now included as part of its media asset management toolset.
IP and cloud
Those wanting further examination of cloud playout systems might take a look at PlayBox Technology's CloudAir. "From an operational perspective, CloudAir allows new television channels to be established in little more time than it takes to make a phone call to the service provider," says Playbox president Don Ash. "This is particularly important to anyone creating transient OTT channels."
BVE marks the first time that Grass Valley's real-time IP processing and routing platform will be shown in the UK. GV Node supports IP and SDI workflows, including Kaleido multiviewing for live production, playout and general-purpose infrastructure. The system works with off-the-shelf IP switches and supports uncompressed SMPTE 2022-6 inputs and outputs, as well as 4K media compressed using the TICO codec.
SAM (Snell Advanced Media) is showing its ICE channel-in-a- box playout product, as well as new enhancements to the IQ Modular series, including IP to SDI interfaces and modules supporting Media Biometrics technology. The firm is also highlighting SigMA, a tool to monitor media at multiple stages in production and playout.
Compare this with Jet, promoted by Cinegy. Jet is a single-licence solution for playout, CG and branding, ingest and encoding, as well as monitoring, live production, mixing and transcoding. It can be found on the stand of systems integrator Trams.
Production
Panasonic's latest addition to its VariCam lineup, the LT, was unveiled in Barcelona in February. It is set to take centre stage on Panasonic's stage at the Excel. Ikegami's Unicam UHD/4K camera will have its first UK demonstration at BVE. It incorporates three 2/3-inch CMOS sensors and a 2/3-inch B4-mount for docking conventional lenses, plus a focusassist function.
Also making a UK exhibition debut is Ikegami's HDL-57 HD camera (pictured below), which is designed for use on remotely controlled pan/tilt heads in applications such as robotic studios, and a 2K/4K rack-mountable optical-fibre links system. When used in concert with Unicam HD cameras, the links system allows users to employ existing HD gear, including lenses, for 4K productions as a bridge to 4K viewing.
Visitors to Canon's booth will be able to get their hands on the ME20F-SH, which boasts an extended ISO of 4 million, making it ideal for use in specialist documentary productions such as night-time wildlife or surveillance shoots.
Those stopping by the Canon stand will get the first chance to see Canon's new UHD Digisuper 86 studio/field lenses, as well as new 4K broadcast lenses (CJ12ex4.3B/ex7.8B). Canon's latest portable 4K cameras, such as the EOS C300 Mark II and XC10, will also be on show. Ross will give a UK debut to its Trackless Studios offering, which is a single-box virtual production system. Based on the company's XPression real-time motion graphics system, it uses stationary cameras, which Ross said makes it ideal for small studios and portable green-screen applications.
Grass Valley is presenting its LDX 86 Universe camera, which is capable of being switched between 4K and HD or slowed down six times for slow-motion action. A software upgrade for the camera enables 15 F-stops of dynamic range in single-speed operation.
"With so much talk about IP and 4K, and how to prepare for the changes, it's important to see the options and how they work in real-world applications," says Grass Valley vice-president of sales, EMEA, Jan-Pieter van Welsem.
Audio
A number of products in the audio category are being launched at BVE. Among them, the Axos Panner from JLCooper makes its UK debut. This is marketed as an inexpensive surround panner for Pro Tools and Apple Logic Pro X.
Multichannel Audio Digital Interface (MADI) specialist DirectOut will introduce the handheld MADI.MONI line checker. For engineers working in outside broadcast, touring or live scenarios, the unit includes an on-board headphone jack allowing any mono or stereo pair of the 64 MADI channels to be monitored.
The VMC-102 from Japanese manufacturer Tac-System will also make its debut. This is a multi-stem and 32 monitor-bus monitoring system for consoles and workstations mixing for Dolby Atmos or MPEG-H. All of the above audio products will be on show at Aspen Media's stand.
Intercom and commentary solutions specialist Glensound is to launch the Signature Series of stereo headphone and output distribution amps at Excel.
Meanwhile, visitors to HHB Communications' booth can get their hands on the Avid Pro Tools Dock (above) for the first time in the UK. With the device, users can work with EUCON-enabled audio workstations and video editing tools including Media Composer, Cubase and Premiere Pro. Its touchscreen capabilities include single fader, assignable knobs, automation mode switches and programmable soft keys.