SUNDAY: Call the Midwife and War and Peace lost ground but continued to dominate the evening for BBC1.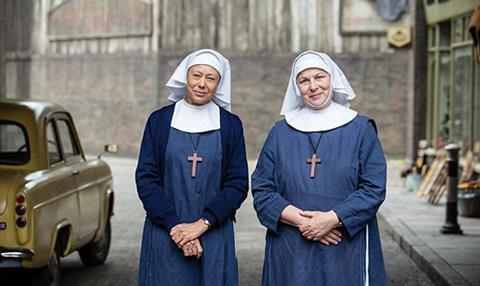 Call The Midwife (BBC1) 8pm-9pm
8m (32%)
Neal Street Production's period drama comfortably beat the channel's slot average of 6m (25.7%) for the past 12 months, but as the fifth series got underway it marked a second consecutive fall on previous series openers.
In January 2015 the show pulled in 8.3m viewers for its debut, compared to 9.3m in 2013. However the share of audience for the launch episodes has remained stable – at around 32%.
The figures grew slightly in the second half of the programme, peaking with 8.4m (33%) at 8.57pm, while the bulk of viewers (82%) were aged over 45.
Opposite, BBC2 aired Masters Snooker for 90-minutes from 7pm. The final captured 2.1m (8.9%), peaking with 3.3m (14%) at 7.58pm as Ronnie O'Sullivan claimed his sixth title.
The penultimate episode of October Films' travelogue Walking the Himalayas transported 2.2m (8.7%) on Channel 4, building on the previous episode's 1.9m (7.7%).
On ITV, the third episode Mammoth Screen's Endeavour dipped to a series low to grip 4.6m (19.3%) over the two hours from 8pm. It fell below the channel's slot average of 5.1m (22.2%) after reeling in 5.2m (21.2%) last week.
C5 amused 790,000 (3.3%) with Ace Ventura: When Nature Calls between 7.10pm and 8.55pm.
War and Peace (BBC1) 9pm-10pm
5.1m (22%)
Epic Leo Tolstoy adaptation War and Peace remained ahead of the 4.5m (19.9%) slot average and won the slot.
Celebrity Big Brother drew an audience of 2.4m (10.3%) for C5, according to Barb data provided by overnights.tv, while Walter Present's German acquisition Deutschland 83 dipped to 900,000 (4%), on Channel 4.
Meanwhile, BBC2 saw 1.1m (4.7%) tune in for a repeat of biopicAlex Higgins: The People's Champion between 8.30pm and 9.30pm.
Earlier in the evening, Beowulf: Return to the Shieldlands averaged 2m (8.7%) across the hour from 7pm on ITV, a fall of 385,000 on the previous episode's 2.3m (10.5%).