Canon has unveiled the C700, the latest addition to its Cinema EOS line-up.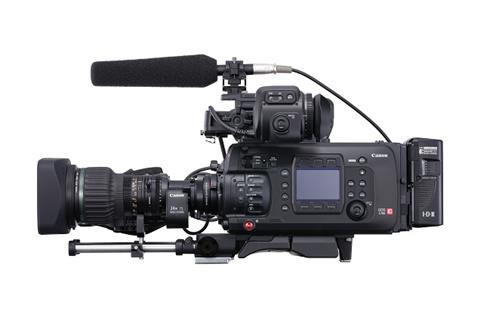 The flagship device, which is the successor to the C500, will be available with either a rolling shutter or a global shutter.
It has a Super 35mm sensor and shoots a maximum resolution of 4.5K at 60p, 2K up to 200p/240p in sensor crop mode, or 4K RAW up to 100p/120p to an optional dockable recorder.
It is also capable of capturing Pro Res footage - a first for an Canon EOS camera - as well as XFAVC.
One of the most obvious changes is to the form factor, which is a departure from the design of the C100, C300 and C500.
The shoulder mount design is also closer to the size and shape of its likely rivals the Arri Amira and Panasonic VariCam.
The C700 EF/PL will be available from December for £28,839. The C700 GS PL will go on sale "early" next year for £30,789.
EOS C700 key features:
4K (4,096 x 2,160) video recording at up to 810Mbps
Internal 10/12-bit XF-AVC or ProRes recording
4K recording at up 59.94p/50p internally or 100p/120p with optional Codex recorder
Up to 15 stops dynamic range (14 stops with the PL version)
Dual pixel CMOS AF (EOS C700 only) or global shutter model options
Canon said that the combination of the Super 35mm CMOS sensor with triple DIGIC DV5 processors would allow documentary makers to capture natural history and compelling stories in "incredible detail, delivering spectacular high-resolution videos with low-noise and shallow depth of field".
Colour space options include Canon Cinema Gamut, BT.2020, and DCI-P3, as well as support for ACES 1.0 workflow.
The camera also supports HDR monitoring with SMPTE ST.2084. Both versions of the EOS C700 can connect directly to the new DP-V2420, Canon's 4K reference monitor that supports ITU-R BT.2100 standard for HDR output.
The EOS C700 records 4K files internally to dual CFast 2.0, supporting both XF-AVC and ProRes formats, while simultaneously recording 4K RAW files to an external recorder.
Equipped with an Ethernet (RJ45) terminal, the EOS C700 allows users to live stream HD footage and also can be connected to a wireless network using the optional wireless file transmitter (WFT-E6B/WFT-E8).