TUESDAY: A controversial episode of Celebrity Big Brother, where David Bowie's ex-wife reacted to the musician's death, helped the Channel 5 show finish in second place at 9pm.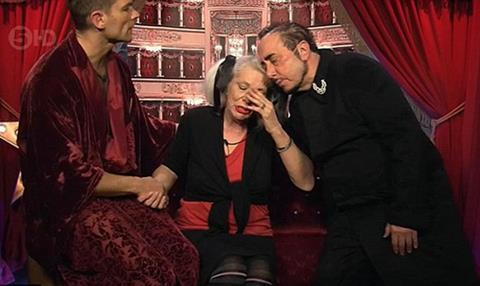 Celebrity Big Brother (C5) 9pm-10pm
2.4m (10.6%)
The reality show featured a grieving Angie Bowie and pulled in its second biggest audience of the series to date.
It was enough to land C5 second place in the 9pm battle, where it was only beaten by Silent Witness. The BBC1 drama continued with 6.3m (27.3%), narrowly below the series average after four episodes.
C4's Derren Brown: Pushed to the Edge was the last-placed terrestrial show. The one-off, the first to be produced by Brown's indie Vaudeville Productions, entertained 1.1m (5.5%).
This well down on the 1.6m (7.8%) who tuned in to the illusionist's previous outing, Infamous, in September 2014.
Opposite, Stargazing Live returned for a three-part series with 1.6m (6.8%) on BBC2. It was beaten by a special episode in December which drew 2.8m (13.6%) as viewers watched British astronaut Tim Peake blast off into space.
ITV's four-part disaster rescue series Saved, from The Garden Productions, fell to 1.3m (5.8%) after opening last week with 1.5m (6.3%). It remains well below ITV's 3.1m (14.3%) slot average.
The Secret Life of the Family (C5) 10pm-11pm
1m (6.5%)
Plimsoll Productions' fixed-rig format, which follows the lives of six families, failed to benefit from the audience of 2.4m it inherited from Celebrity Big Brother.
It outperformed C5's slot average of 866,000 (5.6%) for the past 12 months - but tailed off to conclude with 870,000 (6.9%) after opening with 1.4m (7.4%).
Victorian Bakers (BBC2) 8pm-9pm
2.2m (10.1%)
BBC2's series lost 400,000 viewers from last week's opener but remained line with slot average. ITV's Trawlerman Tales held on to its audience – enthralling 2.3m (10.4%), slightly ahead of last week's launch.