Amazon's voice control app Alexa was a powerful presence at CES, says Mark Harrison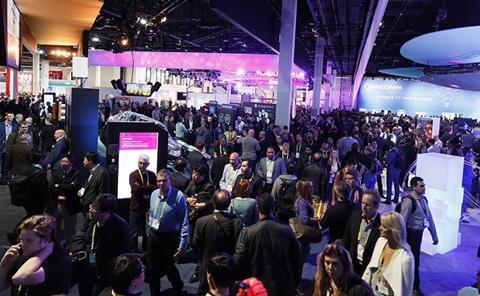 It's a weird truism that the most influential company at the annual Consumer Electronics Show (CES) in Las Vegas is never actually there.
For many years CES was all about Apple, but Apple themselves didn't exhibit.
In 2013 the Apple influence waned, and Google began to pervade the show – without being there of course.
But at CES 2017 there was a powerful new absent presence, Amazon – and they spoke a thousand words.
Vendors used to demonstrate integration with Apple iOS or Google Android; now it's Amazon Alexa - the voice control behind the Amazon Echo device.
Why this shift to Amazon? Because when you're fixated by the power of love, Alexa offers sweet nothings.
Consumer electronics is all about making people want to buy pieces of technology.
But, given that most of us have an uneasy relationship with technology, that's not straightforward.
Paradox
When consumer technology got connected it also got more technical.
A paradox emerged: our devices amazed us with what they did – but also exasperated us with their complexity. Apple romantics, however, seemed untroubled by this: they were blinded by desire.
Individual vendors, notably Samsung, have tried taking on Apple at their own game, with mixed success.
But then along came claims of Artificial Intelligence, and suddenly it seems as if the whole industry has a shortcut to people's hearts.
AI is about the ability of machines to learn from the data they collect from the world around them.
Once they're sufficiently educated, they can, in theory, predict or pre-empt: they can appear to know more about us and our surroundings than we do. And that's emotional.
In reality it's very difficult for a device to achieve true, reliable and appropriate intelligence: the amount and range of data required is too great.
But CES was never about reality. In a leap of marketing faith, manufacturers have seen the potential of AI, claimed their products are intelligent, and assumed the very act of having a 'conversation' with such an intelligent product can only lead to love. And revenue.
Amazon Alexa just happened to be the right voice at the right time. Google also has a voice product – Google Home. Apple has Siri. Microsoft has Cortana.
But Amazon has successfully marketed and sold its Echo device during 2016, and provided the obvious way in for manufacturers who, frankly, needed a shortcut to making their products appear intelligent, and adorable.
In practice this almost always means saying 'Alexa, switch on my (insert name of gizmo).' Said gizmo will be connected, but also as thick as a brick.
Does any of this matter? And, even if it does, does it matter for media?
The answer to both questions is yes. Humans like mobile technology, and voice is a better interface when on the move than clicks and touches.
Meanwhile machine intelligence is coming.
The next biggest Vegas trade show after CES is SEMA – an automotive product show. The automobile industry wants automated cars to become a reality.
That needs intelligence. And much like putting a man on the moon gave us non-stick frying pans, the mapping and interpretation of environments required for automated cars will transform the way we work with media.
Media itself got barely a look in at CES 2017. Some gorgeous TVs, and plenty of VR; but all heads were turned by attention seeking, 'intelligent' lifestyle assistants.
They were this year's crush. But never write off the power of content. Try saying 'Alexa, turn on my favourite TV show.'
See how you feel when that programme appears. Now that's love.
Mark Harrison is managing director of the Digital Production Partnership (DPP)