Could we launch a talent-led show to rival the cult US version? asks Lisa Chapman. With top presenters, brilliant contestants and a bit of pig-spanking, we think we've pulled it off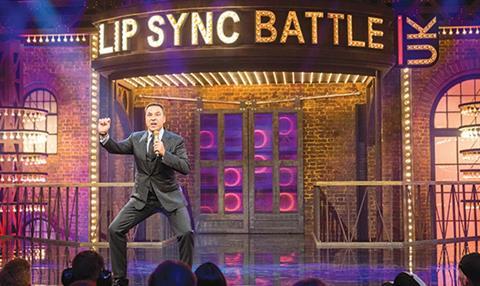 LIP SYNC BATTLE UK
Production company Whizz Kid Entertainment
Commissioners Ben Frow; Steve Regan
Length 8 x 30 minutes
TX 10pm, Fridays from 8 January
Executive producers Katherine Allen; Lisa Chapman; Malcolm Gerrie
Series editor Andy Price
Director Matthew Amos
Set designer Mat Weeks
Choreographer Richard Marcel
Editor Andy Price
Studio BBC Elstree
Post house The Farm
Elstree Studio D. Lip Sync Battle UK. RX1. Sequence 10 Mel B autocue: "The game is simple. Two stars lip sync two songs and the audience decide who did it best…''
If only it was that simple. In fact, producing Lip Sync Battle UK for Channel 5 was anything but straightforward. It was a US hit, devised and perfected by the trans-atlantic talents of Stephen Merchant (The Office UK) and John Krasinski (The Office US) with US chat show host Jimmy Fallon, who debuted the format as a skit on his television show, but it was never going to be an easy ride over here. In the end, it all boiled down to one simple word: talent.
Launching a talent-led entertainment format unlike anything ever seen on British TV – in which the stars step completely out of their comfort zones – meant that bookings were always going to be tricky. The American show has set the bar so high: performers have included Anne Hathaway, Justin Bieber, Mike Tyson and Beyoncé. It was always going to be a hard act to follow.
The US show also has a big-name host in the form of rapper LL Cool J. It was imperative that we too find a host who would make a mark for the channel but also be credible, well-loved and, with the knock-about feel to the format, someone who could confidently MC the studio crowd.
After several agent meetings and some trips to LA, we finally nailed the perfect presenter. Mel B is funny and feisty but warm and well-known – and certainly not afraid to say what she really thinks. Having a star like her on board allowed us to go off-piste with the co-host, pairing her up with rapper Professor Green. But would they hit it off and gel on screen? With Mel in LA and Green in London during development, only on the first day on camera would we find out if our instincts were right.
Domino effect
Hosts secured, we could get on to finding the perfect lip-syncers. For weeks our bookings team were in overdrive talking to publicists, agents, managers and talent.
But people were nervous about the project: Would it work in the UK? How would a brand new entertainment series be received on Channel 5? Who else was on it? And, most importantly, would they look like an idiot?
Holding our nerve, we knew that just one good booking could start the domino effect we needed and, then, praise be: Johnny Vegas and Vic Reeves agreed to go head to head for our first show.
We sent out a clip afterwards, making everyone sit up and take notice. People loved the lavish set and the tongue-in-cheek feel. Suddenly everyone got the fact that it's just for a laugh, that it's a bit of a roast and all you need to do – really all you need to do – is learn to lip sync to two of your favourite songs. The names we wanted soon followed: David Walliams versus Alesha Dixon, Jason Manford versus Michelle Keegan. It doesn't get more eclectic than that.
But with so many bookings confirming literally days before the studio recordings, all of our production departments – editorial, costume, choreography, hair and make-up, props and lighting – were really up against it.
We cut it fine on one occasion: one act was booked at 10pm the night before the show call at 2pm the next day. Scripts were written, dancers were choreographed, costumes stitched, motorbike ordered and Nerf guns sourced in record time. Luckily, the star in question arrived knowing all the lyrics and even went on to win the battle.
Moving mountains
One staging challenge followed another. Could we get the exact same coat worn by Adele in her video for Hello? (yes we could – Topshop, in case you're interested). How about a giant golden codpiece, chocolate fondue, flying seagulls, a giant martini glass big enough to swim in or – my personal favourite – firework boobs? Time after time, the team pulled it out of the bag, working double shifts to make it all happen.
Despite the long hours and crazy schedule, we've had some fantastic lip sync battles and truly memorable TV moments: from Vic Reeves wearing his homemade cereal box helmet, to Rufus Hound spanking a life-sized pig. We've had crowd-surfing, body-popping and backflips, culminating at the end of the run with our director, Matthew Amos, shouting out in the gallery: "Now THAT'S how you cue a mountain!" Not something you'll hear on your average production.
Thankfully, Mel B and Professor Green had an amazing chemistry and we think the series offers something a bit special. Ultimately, it's a funny, celebrity-led series that wants nothing more than to entertain. Move over Beyoncé – Lip Sync Battle UK has come to town.
LIP SYNC BATTLE UK: SETTING THE STAGE
Matthew Amos
Director
The simplest ideas are often the best and Lip Sync Battle is a perfect example. The format was already a big hit in the US and through Spike's online presence, it had become a cult hit in the UK.
I watched a number of episodes of the American version to see how they had shot it. By chance, I saw in the credits that the camera supervisor was Bobby Del Russo, a great cameraman I'd worked with many times in America. We spoke and he gave me his take on shooting the show.
Our designer Mat Weeks had reimagined the US set, adding a balcony and much more. Everywhere we pointed cameras it looked cool. Our show was going to be a little longer than the US one, so the producers thought there might be more chat. With Jamie Carroll, our camera supervisor, we tweaked their camera plan and came up with something that would be flexible for the chat and the huge variety of ideas that series editor Andy Price had come up with.
Showstopping performances
I was excited by taking on the challenge of big production numbers, choreographed by Richard Marcel. We wanted to try to top Anne Hathaway's Wrecking Ball performance on the US show and I think we did that quite a few times. I won't add spoilers – you'll have to watch the series. Suffice to say, we had mountains, exploding breasts, snow and giant martini glasses.
Our art department, led by Clare Parry, worked liked a team possessed, making an unbelievable variety of props. Sue, Debbie, Nadine and Pauline calmly produced amazing looks and styles in almost no time.
With little time to rehearse the four songs per show, we were blessed to have an amazing crew. We were lucky if we had three run-throughs of each performance to make sure we got the key moments.
We'd decided to free up the Steadicam in each show to give us different angles and movement around the set.
Putting it in the balcony for a reverse Busby Berkeley moment or being pulled around on stage by a member of Spandau Ballet added great variety to the way we shot the performances.
Shooting 25 PsF (progressive segmented frame) gave the show a sexier look, something our lighting director Gurdip Mahal and I do whenever we can. It gives a richer, more 'contrasty' feel to the pictures.
With the support of the execs – Malcolm Gerrie, Lisa Chapman and Katherine Allen – and a patient production team led by Alex Pickering, we pulled it off. As I said to Channel 5 commissioning editor Steve Regan, sometimes tough births produce beautiful children.
LIP SYNC BATTLE UK: SPREADING THE WORD
Steve Regan
Commissioning editor, Channel 5
When I was first given Lip Sync Battle UK to oversee, what went through my mind? Well, big names, big budget, shiny floor, a legacy to look after for our US parent company… what could go wrong?
Sometimes when you work in the media, things seem so ubiquitous that you assume everyone in the country is on board. Following its successful launch on Spike in the US, Lip Sync Battle is a high-profile show to most people in TV, as well as an online phenomenon with hundreds of millions of views. Who in the UK TV industry hasn't seen Anne Hathaway performing Wrecking Ball or Stephen Merchant donning chaps to sing Dirrty?
But pitching to agents proved an education in itself. It soon became apparent that telly people can have a skewed sense of what is 'mainstream'. We had to send the agents links to the US show – once they'd seen it, they started to get it.
The US show didn't have this problem. Jimmy Fallon had been lip syncing at the end of The Tonight Show and it already had a huge fan base when Lip Sync Battle aired.
In the UK, Whizz Kid sold in hard, we got some big TV and celebrity names, and the rest snowballed from there. It helped that the young and hip Whizz Kid team were familiar with who's hot in the pages of Grazia or Mail Online, so we could appeal to that all-important younger audience.
And so Channel 5 starts 2016 with a bang. Lip Sync Battle UK is placed in the 'Celebrity Big Brother sandwich': 10pm Friday nights, between the eviction and the eviction interview on our biggest show.
Lip Sync Battle UK is 30 minutes of entertainment in its purest form. Whether it is Johnny Vegas dressed as an angel while suspended from the ceiling or a cross-dressing Jason Manford in a snow storm, each episode delivers again and again.