Already riding a wave of factual success, Channel 4 landed this year's big prize on the back of a scripted renaissance.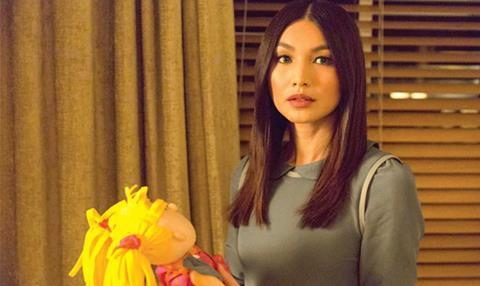 Already riding a wave of factual success, Channel 4 landed this year's big prize on the back of a scripted renaissance.
Best Comedy Programme winner Catastrophe was a rare beast: a contemporary, grown-up relationship sitcom with emotion, laugh-out-loud moments and pitch-black humour.
Indian Summers was a spiky period piece that became the channel's best-performing drama launch for 20 years – only to be trumped by sci-fi smash Humans (pictured) shortly afterwards. Both quickly won recommissions.
No Offence and Ballot Monkeys made innovative debuts, while Peep Show bucked the trend by going out with a bang, rather than a whimper. All this was combined with a strong mix of acclaimed factual returners and exciting additions. Gogglebox has become synonymous with Friday night telly, while contrasting gender politics lifted The Island With Bear Grylls to a new level.
They were joined by award-winning new shows The Romanians Are Coming and The Secret Life Of 4 Year Olds (the cutest rig show yet), making C4's factual credentials as strong as ever.
In fact, more than half of C4's top 30 programmes were new, yet its ratings performance bucked the industry trend: including +1, C4's all-hours share grew by 0.5%, while its peaktime share jumped by a whopping 8%.
Distinctive and popular, C4's output is at its strongest since Jay Hunt took over in 2011.
Shortlisted
A mainstream channel in truly rude health, BBC One is ticking all the boxes as the corporation's flagship. Doctor Foster, Poldark and Ordinary Lies added to an already impressive drama slate, while Peter Kay's Car Share was one of the shows of the year. Peak share grew impressively by 0.4 points to 23.3%.
It was a Marvellous year for BBC Two in every sense, with other scripted highlights including The Scandalous Lady W and the remarkable Wolf Hall. The Detectives was a statement factual piece, while The Mekong River With Sue Perkins and Back in Time for Dinner were two successes in the tough fact-ent space.
Ben Frow's quiet renaissance continued in 2015 as a mixture of snappily titled singles and emerging returners helped build Channel 5's reputation. Ben Fogle: New Lives In The Wild has grown over its four series to become a bona fide smash, while Can't Pay? We'll Take It Away, GPs: Behind Closed Doors and 10,000 BC are all key brands.
An impressive entertainment performance helped Dave become the only non-PSB to make the shortlist. Taskmaster and Alan Davies: As Yet Untitled have given the channel fresh impetus, building on established hit Dave Gorman's Modern Life Is Goodish, and it is cultivating a broader, more sophisticated identity beyond its 'witty banter' roots.
Not the strongest year in terms of ratings performance, but ITV's creative highlights were impressive. Scripted was probably its strongest genre. Dramas Black Work, Safe House and Home Fires launched well, while The Lost Honour Of Christopher Jefferies gained critical acclaim. Best Soap/Continuing Drama winner Emmerdale was on great form, and Britain's Got Talent remained the biggest entertainment juggernaut on TV.