NAB 2016: Timecode Systems has released the SyncBac Pro, a clip-on timecode accessory for the GoPro Hero4 Black and Silver cameras.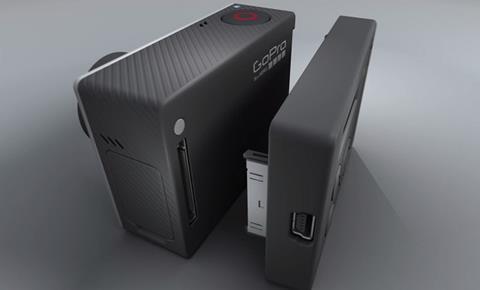 SyncBac Pro wirelessly syncs the wearable cameras with professional cameras and audio devices over long-range RF.
It generates frame-accurate timecode, producing a timecoded MP4 file at source and wirelessly timecode syncs multiple GoPros and GoPros with other devices over Timecode Systems' long-range B:Link RF network.
"Until now, all we could do was advise production houses to visually slate using a digislate," said Paul Scurrell, chief executive of Timecode Systems Limited.
"It was a decent workaround, but it wasn't the seamless solution productions craved.
"What customers really wanted was timecode generated at source and synced over long-range RF, producing a single file with embedded timecode that post production can work with in exactly the same way as media extracted from more traditional professional cameras and audio equipment."
At the end of a shoot, SyncBac Pro users can remove the SD card from their GoPro which will contain footage with embedded timecode.
The single MP4 file can be uploaded into an editing package in the same way as media captured by large-scale, professional broadcast cameras and audio devices.
The SyncBac Pro clips to the Hero4 Black and Silver cameras via the Hero Bus 30 pin port.
SyncBac Pro is being launched at NAB.
C2221