The social pressures of early university years – not to mention the hormones – have served as fertile ground for comedies such as Fresh Meat, which enjoyed four series on Channel 4.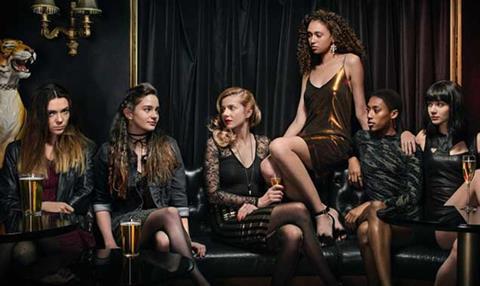 Distributor All3Media International
Producer BBC Studios in association with Balloon Entertainment
Length 6 x 60 minutes
Broadcaster BBC Scotland/ BBC3 (UK)
Balloon Entertainment's University of Edinburgh-set drama Clique is no different, though the six-parter – penned by Jess Brittain (Skins) – stands out for its strong thriller element and its enterprising young characters' drive to succeed at any cost.
Indie Balloon was formed in 2012 by Skins creator Bryan Elsley and comedian Harry Enfield.
Clique is a graduation from Skins, with a set of older, sophisticated students enduring a different university experience from what the Skins kids might have expected.
Clique finds its two freshmen protagonists Georgia (Aisling Franciosi) and Holly (Synnøve Karlsen) competing to get into an economics professor's elite internship scheme. The friendship is tested when Georgia hooks up with a glamorous group of older girls to better her chances, while Holly remains sceptical of the clique.
Balloon head of development Dave Evans tells Broadcast: "Jess and I went up to Edinburgh and asked people how student culture in the city was. The first thing [students] talked about was the internships they were going to do in summer of their first year. If they don't get that right, they already feel like they're left behind. Today's students are very, very focused on their future."
Evans says the BBC handed the drama a "proper, serious" budget, and conversations about a second series are kicking off.
Meanwhile, All3Media International could give the show the format treatment, but will hold out on a decision until after the drama is presented to buyers in Cannes.
Evans says Clique's global appeal comes down to young audiences responding to stories about themselves. "If you look at the number of young kids watching [Norwegian drama] Skam or the
South Korean teen dramas, there's a real appetite for shows that take their own age groups seriously."
Balloon is currently in production on C4 and Netflix thriller Kiss Me First. Set for release in 2018, the story follows two girls who meet in an animated online world.